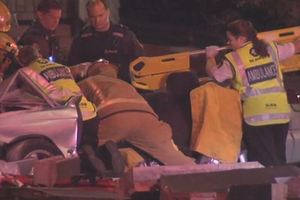 Police say they are "comfortable" with the actions of officers involved in a one-minute pursuit that resulted in four teenage girls fighting for their lives in hospital.
The girls, one aged 16 and three aged 17, allegedly sped away from police in a stolen car before crashing so hard into a brick fence that the impact shook neighbouring houses on Kepa Rd in Kohimarama last night (Sun).
The younger girl is in a stable condition, while two others are critical but stable and the fourth is critical, a spokeswoman at Auckland City Hospital said this afternoon.
The four girls were allegedly fighting and knocking over tables at a Mission Bay cafe last night, which prompted multiple calls to police about 11pm.
Inspector Andy Brill said there were reports of disorder and fighting and "all sorts of bedlam going on".
Auckland Police District Commander Superintendent Michael Clement said a patrol located the car the girls were in, and established it had been stolen from Green Bay on Saturday.
Police said they tried to stop the car as it left the area but the driver immediately accelerated and drove up Kepa Rd.
Inspector Jim Wilson told Radio New Zealand police followed the vehicle at some distance without activating the patrol car's flashing lights.
It then activated its lights and sirens for less than a minute.
He said road spikes were in place but the stolen vehicle lost control before it reached them.
The car hit a concrete median strip and crashed into a 2 metre-tall concrete block wall, knocking down a large portion of it and trapping the girls inside the vehicle.
Police and other emergency services attended to the girls at the scene.
At least one of the girls was still conscious and cried for help while firefighters cut them free, a witness said.
"One was screaming, 'I can't breathe, I can't feel my legs. I'm going to die, I'm going to die'," neighbour Humphrey Hart said.
"I heard the bang, it was pretty loud."
One neighbour, who did not want to be named, said she heard the car speeding and a siren before the crash.
"They must have been absolutely hoofing it," she said.
"We thought they had crashed into our fence. It was one hell of a bang. It's terrible."
Another neighbour two houses away from the crash said the impact shook their home.
The white timber home where the car crashed is unoccupied.
Neighbours said it was recently bought by a family who were in the process of moving in.
A labourer at the house this morning said the owner was aware of the crash and would have to wait for insurance before the fence could be repaired.
Mr Wilson said he was "comfortable" that police had followed procedures.
A spokeswoman for the Independent Police Conduct Authority said they were expecting a complaint to be made, and an investigation would be held into the actions of the officers.
Police were seeking witnesses to the behaviour in Mission Bay and the driver's behaviour as the vehicle was driven from Tamaki Drive, up Ngapipi Rd and on to Kepa Rd.
- APNZ