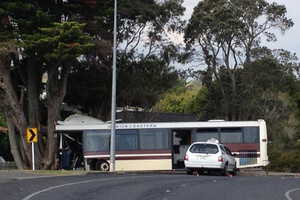 One person has been killed and three people injured in a bus crash in Auckland this afternoon.
The bus hit a car and a tree in the crash about 3.15pm on Hill Road, Manurewa, police said.
The injured people were taken to hospital and their families were being informed.
Howick & Eastern Buses expressed its condolences to the family of the person killed.
"We are doing all we can to assist the families of those who were involved in this tragic accident, including the three people who suffered injuries," said general manager Sheryll Otway.
No comment was made on the cause of the accident but the police serious crash unit is investigating.
- nzherald.co.nz and APNZ