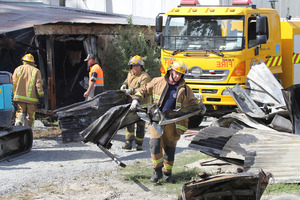 A man was heard screaming in pain as a storage shed complex north of urban Christchurch erupted in flames this afternoon.
The 58-year-old was taken to hospital with serious burns to his arms, hands, legs, chest and face after the blaze in Mills Rd, Marshland shortly after 2pm.
A hospital spokeswoman said the man was in a serious but stable condition, but was still being assessed early this evening.
Neighbour Wayne Anstiss said flames were about five metres high and smoke was billowing from the 15-metre by 50-metre complex of storage sheds and small workshops.
Mr Anstiss said he heard sirens but didn't take much notice at first before he looked through his garage window and saw smoke.
He said there appeared to have been an explosion that may have started with petrol.
"Sometimes there are guys there that work on their motocross bikes in that shed. It used to be a coolstore for the old orchard," Mr Anstiss said.
"It's pretty much gutted. The whole roof collapsed."
Firefighters called in from the St Albans, Christchurch and Wainoni brigades worked to keep the flames from nearby trees, with water tankers from Governors Bay, Brooklands, Woodend and Bottle Lake.
"The wind was blowing toward the trees. The firefighters were trying really hard to contain it. If those trees had caught fire it would've been a whole different story," Mr Anstiss said.
He said the injured man "sounded like he was in a lot of pain".
"He was screaming."
A Fire Service spokesman said the complex was well ablaze when firefighters arrived just after 2pm. He understood another man was treated at the scene for burns.
Storer Contracting Ltd managing director Ross Storer, who owns storage units just 20 metres away from the fiercely burning buildings, said firefighters did a "great job" keeping the blaze away from his sheds.
Mr Storer said he heard about the fire when a neighbour phoned to say his yard was on fire.
"My buildings are untouched," he said. "I'm pretty rapt about that, but I feel for the guys who have lost all their gear and obviously the guy who's in hospital."
He said the gutted storage complex was leased out to individuals.