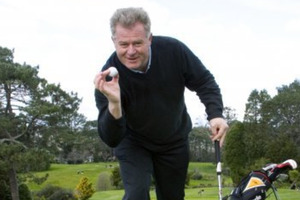 Friends and colleagues have paid tribute to veteran broadcaster Phillip Leishman afterhis death at the age of 61.
Leishman had a brain tumour operated on in March last year and it was hoped he would make a full recovery.
However, the cancer returned, resulting in the broadcaster falling seriously ill again last week.
His family and friends were by his side yesterday as he slipped into a coma and died overnight.
Friends and colleagues have been reminiscing about the kind of man Leishman was.
Sports broadcaster Keith Quinn worked with him on both radio and television.
"You never saw Phillip on television looking anything less than impeccably turned out ... his old clothes were always neat," he told TVNZ's Breakfast.
"He was a very friendly person on-screen and you got that off-screen."
People felt that Phillip was a friend of theirs, Quinn said.
Breakfast present Peter Williams also paid tribute to his friend and colleague on air this morning.
Williams said he got his break in the industry in 1979, filling a sports reporter vacancy left when Leishman went on his OE in 1979. Since then he had worked with him at the Olympic Games, Commonwealth Games and golf tournaments.
"There was always an element of show business about Phil," Williams said on Breakfast.
"He was a fabulous guy, always friendly. What you got on air is what you get off air, which is a sign of a great guy."
Longtime friend and horse racing broadcaster Des Coppins told the Herald over the weekend it was a tough time for everyone, particularly for Leishman's wife Michelle and the couple's three children Harry, India and Lily.
"They're receiving support left, right and centre. They're a very close-knit family. He's in the public eye, but they're a very private family."
Coppins said he had talked to his old mate a few days ago.
Coppins, who was best man at the Leishman's wedding, said he had received dozens of messages from people around the country.
"We work [together] and we were and we are close mates. We'll be there forever. He's almost a brother - in fact he's a brother - that's the way I see Phillip."
New Zealand Golf chief executive Dean Murphy said Leishman was hugely respected as not only a broadcaster but also as a person.
"It is an incredibly sad day for our team today and we have Phillip's wonderful family firmly in our thoughts," Mr Murphy said. "Phillip was not only an important man in the world of golf, he was a great friend who was very close to many of us at New Zealand Golf.
"It is obvious that Phillip's contribution to the game of golf in New Zealand has been immense. His endeavours to promote and support the game of golf have been substantial and we are incredibly indebted to his tireless effort and professionalism in this area.
"Today, however, we are not mindful of the great work he has done for the game of golf, but thinking with fondness about the type of person he was.
"I affectionately called him Sir Phillip Leishman whenever we spoke. While always said with a smile, this title was a genuine reflection of the high esteem in which I held the man. To me he was a man that stood apart from everyone else and a man I was privileged to know. His humility, friendliness, kindness and openness were all qualities that I came to know and love about Phillip. I shall dearly miss his guidance and friendship."
Fellow broadcasters also paid tribute to Leishman on social media.
"RIP Phillip Leishman. You are a gentleman and an inspiration. Saturday mornings in the 70's with Glyn Tucker are a treasured memory," rugby commentator Hamish McKay wrote on Twitter.
Cricket commentator Bryan Waddle wrote "Now Phillip Leishman, 3 of our very best passing in the space of 6 weeks, another sad day, thoughts with his family."
Radio presenter Jeremy Corbett added "Fond memories of him @ 91FM. Wicked sense of humour. Rest peacefully, mate."
And Prime Minister John Key remembered Leishman on Twitter with the words: "Very sad to hear of Phillip Leishman's passing. I always enjoyed our interactions, and my thoughts are with his family."
Leishman was a regular on New Zealand screens since making his first television appearance on a Dunedin regional station in the 1970s.
He went on to cover Olympic and Commonwealth Games between 1976 and 1998.
More recently, he concentrated on golf commentary, but over the years he also covered yachting, tennis, league and rugby.
From 1991 to 1996 he hosted 1250 episodes of TVNZ's first series of quiz show Wheel of Fortune alongside Lana Coc-Kroft.
Leishman also hosted one-off entertainment specials including the Halberg Awards and the last ever televised Miss Zealand Show.
He hosted the New Zealand Cricket Awards from 2008 to 2010.
In 2011 he was made an Officer of the New Zealand Order of Merit for services to broadcasting and the community.
- nzherald.co.nz with APNZ