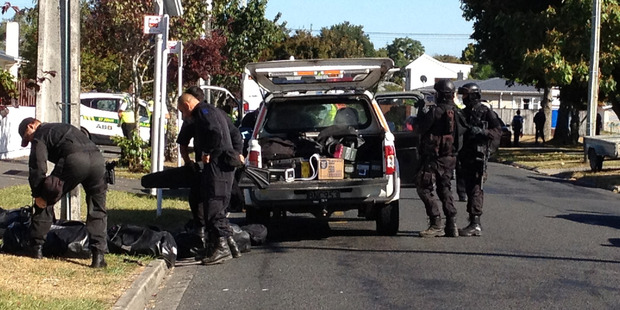 A man threatened to open fire on a group of police officers at a Hamilton house this morning. They were attending a domestic incident involving a woman and a 10-year-old child in which a shot was reportedly fired.
Police and the Armed Offenders Squad were called to a house - on Tomlin Road in the Hamilton suburb of Glenview - after neighbours heard a shot being fired just after 9am.
Neighbours said they heard yelling, screaming and a window being smashed before the shot was fired.
Senior sergeant Andy Bu Bear said police initially responded to reports of violence at the address.
"When police arrived at the address, a man had barricaded himself at the address. There was some suggestion of a firearm at the address and the Armed Offenders Squad was called."
A woman in her 40s and a 10-year-old girl believed to be the couple's daughter left the house before police arrived.
"When officers arrived outside the address they became concerned about shouting inside the house and forced entry into the home. Once inside they were confronted by a male who threatened to shoot both them and the woman so they retreated to await the arrival of reinforcements," said Mr Bu Bear.
"There were also unconfirmed reports of a shot being fired and as such members of the Waikato Armed Offenders Squad were called in to assist. Prior to their arrival the woman made her way out of the house and the offender gave himself up following voice appeals by AOS officers."
The man was arrested without incident about 10.15am and he is being questioned by police.
Mr Bear said no weapon had been recovered and there were no reports of injuries.
Neighbours said the occupants of the home were long-term residents and the house had been in the family for many years.
Dog squads from Auckland and police negotiators also attended the scene.
A forensic examination is underway and the three people present at the time of the incident are being interviewed by police.
* Send your news, photos and videos to us here.
- nzherald.co.nz