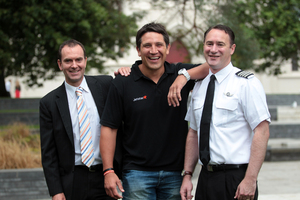 The Herald on Sunday's new look is off to a flying start - and we want to make sure essential community groups begin 2013 in fine style too.
That is why the newspaper has partnered with low-cost airline Jetstar in an initiative that will put cash and airline tickets in the hands of needy groups.
We've become the media partner of Jetstar's Flying Start Programme, which gives $15,000 cash and $15,000 in Jetstar travel to a worthy group each quarter. Applications for this round of funding close on March 31.
Entry is open to New Zealand-based not-for-profit community groups seeking funding to help enhance the lives of people in their community. They should have a specific project in mind.
Editor Bryce Johns said the paper had partnered with Jetstar before Christmas in an initiative to raise funds and awareness for the Auckland City Mission.
"It's the coming together of two community-minded entities and Flying Start is a great way of doing something for groups who deserve a helping hand," he said.
Jetstar Australia/New Zealand chief executive David Hall said by joining with the Herald on Sunday, the grants would get more publicity and draw applications from a wider field.
"Last year, four charities shared in $120,000 worth of cash and flights and have used the grants to support the local community. I'm delighted that community support for fellow Kiwis is on show with many Jetstar team members getting behind the four charities and we're pleased the Herald on Sunday see the value in what we're doing.," he said.
Johns will join the award judging panel along with Hall, Jetstar ambassador and former league star Steve Price, chief pilot Richard Falkner and Jetstar's South Island passenger services manager Sharon Cocker.
Meanwhile, Price is raising money for the Child Cancer Foundation through a unique social media initiative. Price is auctioning subdivisions of his soon-to-be-shaved head on Trade Me. He urges the public to go to Trade Me, search #priceyrealestate and bid for a fantastic cause. The winner, along with owning a piece of unique property, will join him at a charity dinner on Friday, March 1.
To apply for Flying Start, go to jetstar.com.