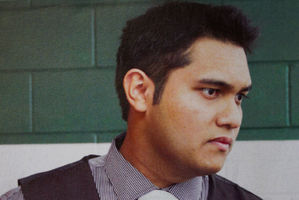 One of the men charged with the fiery death of Shalvin Prasad can be named while the other is fighting at the High Court to keep his name secret.
Shivneel Kumar appeared at the Manukau District Court today alongside his co-accused.
The pair have been charged with the murder of Mr Prasad who was found burned to death in a rural area of south Auckland. Police believe the supermarket worker was alive when he was set on fire.
Kumar's lawyer Peter Davey did not ask for his client's interim name suppression to continue.
But Ish Jayanandan, the lawyer for Kumar's co-accused, argued her client should keep his name suppressed because identifying him could harm a family member.
Judge David McNaughton declined name suppression but Ms Jayanandan said she would appeal the decision to the High Court.
Ms Jayanandan has served APNZ with a notice of an appeal against the lifting of suppression that is set to be heard next week.
The nature of the legal arguments were in closed court and took almost four hours - causing delays for other cases.
Judge McNaughton remanded the pair in custody for a plea enquiry hearing next month.
Police have not ruled out laying charges against a third man.
Last week police revealed that the tens of thousands of dollars withdrawn by Mr Prasad, shortly before he was set on fire, had been spent.
Outside court last week, Detective Inspector Dave Lynch said police were unlikely to be able to recover the money.
"But we believe we can account for the majority of it ... We are not looking for a pile of cash."
Asked if the money was spent, Mr Lynch said: "There are a variety of ways we think it has been spent."
He would not say what the money was spent on.
Mr Lynch said one of the men was known to Mr Prasad but was not a family member.
Police turned to criminal profilers for clues to why the 21-year-old, a gentle man who loved his family, was burned alive on the side of the road.
His burning body was found on McRobbie Rd in Kingseat, south of Auckland, on January 31.
- APNZ