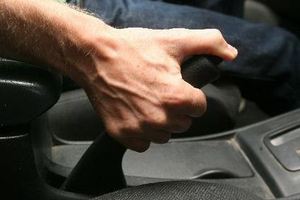 A man has been convicted of careless driving causing injury, despite the fact he wasn't driving the car that crashed, injuring him and his mother.
Shane Carl Bell, 35, of Masterton, appeared in Masterton District Court this week and was sentenced to nine months' supervision and disqualified from driving for nine months for pulling on the handbrake while the car was moving.
Bell was a front seat passenger in a Mitsubishi travelling on Pakowhai Rd, Hastings, at 11.15pm on January 2.
He had been arguing with his mother, who was driving, and had asked her to pull over.
Police said the vehicle was travelling around 100km/h when Bell pulled on the handbrake, causing the car to swerve across the road, spin out of control and slide into a ditch.
Bell broke a collarbone and his mother sustained a cracked rib and bruising as a result.
Judge Chris Tuohy said he believed although Bell was in the passenger seat, by pulling on the handbrake he had "exerted control over the vehicle" and was, therefore, responsible for the car spinning out of control and crashing.
Prosecuting Sergeant Garry Wilson said that when Bell was asked by police to explain his actions, he said he pulled on the handbrake because he wanted his mother to stop the car and let him out.
Solicitor Virginia Pearson, who represented Bell, asked Judge Tuohy if a supervision sentence could be considered because Bell was due to start an eight-week Salvation Army bridge programme on March 23.
From the dock, Bell told Judge Tuohy he had cannabis and anger management issues he was hoping to address.
Ms Pearson said Bell accepted he caused the crash and was "deeply remorseful".
She said his relationship with his mother had improved significantly since the crash and although his mother had been unable to attend court, she was supporting him.
Bell pleaded guilty to careless driving causing injury after initially being charged with dangerous driving causing injury.
Judge Tuohy said he believed Bell's actions were foolish.
"What you did could be described as careless and dangerous driving," he said. "It was a deliberate and stupid action."
For more articles from this region, go to Wairarapa Times-Age