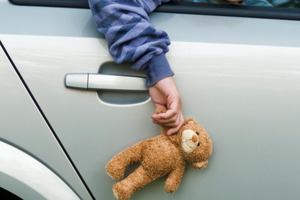 A 3-year-old boy turned blue and nearly stopped breathing when his neck became caught in an electric car window, the rescuers say.
The boy had apparently been playing in the vehicle parked in the driveway of his family's home in Heriot, Otago, when the incident occurred just after noon yesterday.
"Somehow he pushed the window and it's come up and cut his airway off,'' Heriot Volunteer Fire Brigade chief fire officer Murray Young said.
His mother found him and called 111. If she had been much longer the boy may have have died, Mr Young said.
"We responded - the fire station is just across the road - and when we got there he was unconscious, quite blue, and he was breathing but only just.
"We administered oxygen and just kept an eye on him until the paramedics arrived.''
The boy was taken to Dunedin Hospital for treatment and was discharged this afternoon.
The family could not be contacted for comment today.
Road safety campaigner Clive Matthew-Wilson said the incident should serve as a reminder to parents about the importance of having pressure-sensitive electric car windows.
"There's a number of older cars that don't have sensitive windows so if a child gets caught in them this sort of situation is likely to occur.
"Modern cars usually have pressure-sensitive windows which will back off if they sense something in the way. It's something that should be on the top of a parent's shopping list when they're looking for a new car.''
- APNZ