Doctors missed girl's rare condition.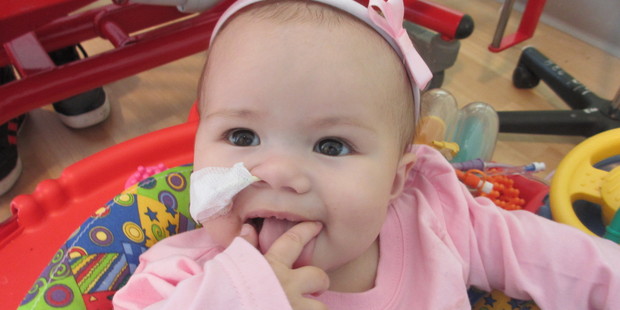 A grieving mother, whose seven-month-old baby died after doctors took months to diagnose her illness, is pleading with the medical fraternity to take asthma-like symptoms more seriously.
Little Laurel Giles was in line to become the country's youngest heart transplant recipient when she died on Friday night. Her parents don't blame anyone, but think lessons can be learned.
Laurel was only two months old when she began to develop a nasty cough, a wheezy chest and rapid breathing.
Her mother Trish McNaughton, 24, said doctors initially said it was asthma or reflux and sent her home with a ventolin inhaler.
But McNaughton, of Wellington, knew something was wrong after about 20 visits to the emergency department or doctor's clinic in four months. McNaughton, and Laurel's father, Ash Giles, 21, requested several x-rays but claimed doctors made them feel "silly" and paranoid.
"We were there more than three times a week trying to find out what was going on," McNaughton said.
"I cried and asked them to please do an x-ray but they said her chest was just wheezy and nothing was wrong. I kept saying it's not right, it is not asthma, the Ventolin isn't working."
Almost two months ago, her instincts were proved correct and Laurel was diagnosed with dilated cardiomyopathy - an enlarged and weakened heart.
She was transferred to Starship Children's Hospital in Auckland, where she was cared for at a cost of about $3500 a day. They were told Laurel's only chance of survival was a heart transplant and her life was hanging on time and money - almost $500,000. But neither were on her side and Laurel died on Friday night while waiting to be accepted to the Royal Children's Hospital in Melbourne.
Children who weigh less than 15kg, and are suitable for a heart transplant, go to Australia because New Zealand does not have enough child organ donors.
McNaughton said Laurel died peacefully and the family were coping. However, she believed her baby could still be alive if doctors had listened to her.
"I feel like it could have been better if things were found earlier and I think doctors need to be more aware of the symptoms and check everything," she said.
The Wellington-based doctors told her they had missed the diagnosis because the condition was not common in children as young as Laurel.
Starship Hospital's chief of paediatric cardiac surgery, Kirsten Finucane, said Laurel's heart was three times the size of a healthy infant's. The 'back-pressure' - abnormally high pressure caused by the blood vessels trying to deliver blood to the heart - had caused her lungs to go "soggy", making each breath a tiresome struggle.
About five Kiwi infants have been referred to Melbourne in the past 20 years, and only two surgeries were successful.
Last year, 6-year-old Kaden Probst become the youngest New Zealander to receive a heart transplant since Green Lane Hospital introduced the surgery in 1987.
The surgery and treatment, which can cost up to $1 million, is usually funded by the Ministry of Health's special high-cost treatment pool. The scheme is for medical care only available outside New Zealand, or outside the public health system.
Laurel's parents had planned to launch a fund-raising campaign but she died before they could do so.