Kiwi suffers brain damage and his Sydney attacker has no money.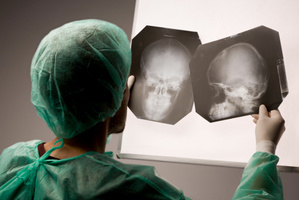 A Kiwi handyman has been awarded more than $2.3 million after suffering severe brain injuries from being "king hit" by a Sydney bouncer - but he may never see a cent of the money.
Steven Dickson, 55, was elbowed in the temple by hulking bouncer Russell Peter Chaffey on a night out with his daughter.
Dickson's head smashed into the concrete on the central Sydney street, and he was rushed to hospital, where part of his skull was removed to relieve the swelling. He spent three months in hospital and has been unable to work and has suffered blackouts, epileptic seizures and grown distant from family and friends.
Speaking from Sydney, Dickson told how since the 2007 assault, he had found tasks such as conversation, reading and writing difficult.
"I don't even like going around to friends' places in case I have a fit."
He had moved to Australia to be closer to his daughter and her two grandchildren and quickly found work.
But since the accident, Dickson developed a short temper and finds it hard to be around his grandchildren because he cannot cope with loud noises.
"My daughter lives quite a way from the city, she has two kids to look after. She can't drop everything and run to help me."
Dickson told the Herald on Sunday he was refused help by the New Zealand and New South Wales Governments for more than a year, as the accident had occurred overseas.
His lawyer Joshua Dale said that because Dickson was a New Zealand citizen in Australia, he had "fallen through the cracks of a lot of social security laws".
Dickson was eventually awarded an invalids benefit from the Government, and $62,000 from a New South Wales Government fund supporting victims of crime.
He sued Chaffey for assault and battery and launched proceedings against the Reddawn bar that employed him.
On the night of the incident, Dickson leaned against a car while hailing a taxi. Chaffey had run across six lanes of traffic and demanded money for damages to his car. When Dickson refused, he struck him in the temple with his elbow.
A judge found that Reddawn was not liable, but awarded damages of $2.3 million against Chaffey in October last year.
Dickson wants to return to New Zealand, where he worked as a commercial fisherman for 30 years in Hawke's Bay, and is still hopeful he can gain some of the money owed to him.
However, his lawyer says Chaffey has no assets.
In court documents, Justice Robert Beech-Jones said that Dickson's memory, concentration and brain functioning had been impaired.
"His ability to care for himself is significantly affected, ranging from matters affecting his personal hygiene to managing his financial affairs. He is depressed, unhappy and has become socially withdrawn. He is listless, prone to headaches and has difficulty sleeping.
"No doubt all of this has had a significant impact on his relationship with family and friends. Sadly, there is very little prospect of improvement for the balance of his life."
In New Zealand, ACC laws would prevent people privately suing another individual.
Dickson has warned New Zealanders heading to Australia to take out personal liability insurance or they could face the same problems as him.
Figures are a no-brainer
More than 5000 New Zealanders are believed to suffer some form of brain injury every year as a result of being punched.
ACC figures show there have been 17,849 claims for concussion caused by "fighting" over the past three years. ACC has paid out nearly $11 million excluding GST over that period.
And ACC statisticians warn that this figure could be a guide only.
After motor vehicle accidents and sports injuries, assaults are the most common cause of head injuries in New Zealand, according to the Brain Injury Association, which provides ongoing support to those with long-term brain injuries.
Steve Jenkins, liaison officer for the Auckland Brain Injury Association, says assault victims face greater challenges because of post traumatic stress. And Lynda Pointon, of the Wellington Brain Injury Association, says most of her clients have been assaulted by people under the influence of drugs and alcohol.
Former detective Wayne Harris spent more than a year in a brain rehabilitation unit after being punched in 2010.
Have you been affected by head injury caused by assault? Email: bevan.hurley@hos.co.nz