The man who co-ordinated medical teams to treat the critically injured survivors of the 2005 London Underground bombings has returned to New Zealand to head the St John ambulance service. Joanne Carroll reports.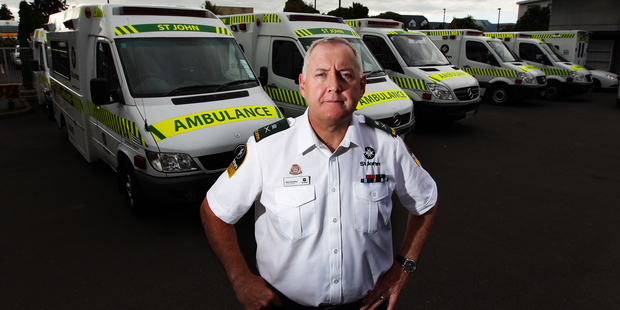 Peter Bradley remembers that day in July. A standard early-morning meeting at the London Ambulance Service headquarters was interrupted by a phone call, and suddenly everything descended into chaos. Four bombs had gone off in London during the rush hour, three deep in the Underground and one on a bus, striking fear in the city's heart.
It was July 7, 2005, the day four "homegrown" Islamist suicide-bombers from West Yorkshire blew themselves up on three Underground trains and a bus in Tavistock Square, killing 52 civilians and injuring more than 700 others.
Paramedics and ambulance officers faced something akin to a battlefield. Deep below London lay bodies, critically injured survivors - some trapped in tangled wreckage - and the terrified walking wounded, covered in soot. Amputated limbs lay flung among debris and shattered glass.
No one knew whether more bombs would go off. For Bradley, chief executive and chief ambulance officer, it was his worst nightmare.
An inquest later revealed radios used by emergency services didn't work deep in the Underground and, as panic spread through London, the mobile phone system collapsed. Rescuers, trying desperately to save lives, were reduced to using "runners" to get messages for more help and supplies to the surface.
The chaos of the "7/7 bombings" is still fresh in Bradley's mind. "We weren't prepared for four bombs going off at the same time. It was chaos and there was a lot of confusion because of the information we were getting."
Bradley remembers the moment he heard about the bombs.
"As the minutes passed, my memory was of a slow but growing realisation that this was something like we had never experienced before. It gave me [a] sinking feeling in the pit of my stomach, a sense that we had no control over what was happening and we kept wondering where the next bomb was going to go off, made worse by the large number of false alarms for days afterwards. A day I will never forget."
Bradley had to front up to the public after a damning report found several failings in the ambulance service's response. The London Assembly's review of the emergency response to the terrorist attacks found that the trust's over-reliance on mobile phones to communicate with crews, the control room and hospitals caused major communications problems.
"The inquest was very difficult and 50 staff had to give evidence a long time after. I was in charge so I had to talk to the media," he says. "We learned some lessons from it. We made a number of significant improvements including new control-room facilities to be able to manage multiple simultaneous major incidents, and more medical equipment being available to be sent to scenes."
The Coroner suggested a review of training for multi-casualty triage, and sending 20 ambulances, 10 officers and all available emergency support vehicles carrying extra equipment to major incidents immediately.
Now Bradley, in his mid-50s, has returned home to New Zealand, to a job as chief executive of St John, after running the world's busiest ambulance service for the past 12 years. He's back in the office where he began his paramedic career - in the Mt Wellington St John headquarters.
Although he has left behind the stresses of London, Bradley hasn't come home for an easy ride. St John has 2000 staff and 8000 volunteers, and faces "challenges" in the face of huge population growth in areas such as Auckland.
"St John is going to have to change to deal with demand," he says.
Predictions suggest that in five years, the number of 111 calls St John receives will have risen to 500,000 a year. "That's 20,000 extra, so we are going to have to think about how we are going to respond to this," says Bradley.
"We will always be underfunded, but we have to look after our staff and volunteers. They give up their time for us, they have to be released by their employer. We expect a lot from them so it's important we look after them."
Bradley wants to begin compiling statistics on outcomes for patients.
"At the moment we deliver people to hospital and we don't know what happens to them after that. I don't want to become too focused on targets but we need to know how many lives we are saving so that we can try to improve on that. We need to work with the DHBs on that," he says.
The new CEO is not daunted by the task. Head-hunted by the London Ambulance Service in 1996, he found himself in charge of a service besieged by problems and negative publicity. He worked as a director of operations until he was appointed chief executive and chief ambulance officer in 2000.
The three chief executives before him had been sacked.
Bradley was so highly regarded for his work in London he was appointed CBE in the 2005 New Year Honours. Not bad for a boy who left school at 15 with no qualifications.
Originally from Leeds, he moved to New Zealand after school and got a job at a bank. "It was the last bank in New Zealand to have guns, and it was my job to clean the gun every day," he laughs.
His girlfriend, a nurse, encouraged him to apply for a job with the ambulance. Bradley got the job and never looked back, working his way up to chief ambulance officer for the Auckland and Northland regions between 1992 and 1995.
He left the organisation to study for an MBA in Otago in 1995. "Looking back it was a brave thing to do, give up my job to study."
Bradley was 38, a father of three and, although he'd done well, at St John he wanted management qualifications.
While Bradley was studying for his MBA, he was approached for the job in London. "They said they would wait for me to finish the MBA," he says. "I was not expecting it - I was two-thirds of my way through the course."
In London he found himself as an executive in what was described as "the worst ambulance service in England", in a city of eight million people, taking 1.6 million emergency calls a year. "It's a very tough job. The service had lots of problems when I started," says Bradley.
"There was a lot of issues with staff and the unions. The service needed extra investment from the government. It had had a lot of negative publicity. They had major problems when the new computer system crashed, and there was a big focus on targets. The cardiac-arrest survival rate was only 2.5 per cent."
By the time Bradley was head-hunted to lead St John in New Zealand, that rate was up to 31 per cent. He felt the time was right to go home. His parents still live in Auckland, his twin sister in Australia.
He's back in his old office. The furniture is still the same, he says, but Auckland has changed in the 17 years he's been away.
Road safety has improved dramatically, meaning fewer accidents, but alcohol remains an issue - his staff get abused and assaulted, he says.
Working at the coal face has helped him in the top job. "You don't have to have been an ambulance officer to do this job, but it has been helpful. People appreciate that you have done the job and know what you're talking about. I want to do some shifts in an ambulance. I haven't done as much as I'd like but I'd aim to do one a month."
One of his fondest memories of working as a paramedic years ago is delivering a baby on the Auckland Harbour Bridge.
"The husband was too frightened to come in the ambulance for some reason, so he followed in a taxi over the Harbour Bridge. We stopped the ambulance right on the top of the bridge, and I remember delivering the baby and then opening the side of the door and shouting out, 'It's a boy!'
"There was a huge traffic jam, but everyone was very happy."