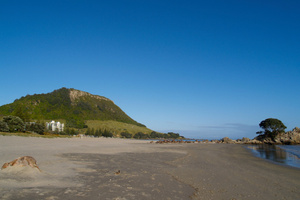 A Mount Maunganui man was shocked by the actions of five motorists who ignored his desperate attempts to flag them down and raise the alarm after a woman was pulled lifeless from the surf.
Craig Leckie offered to call an ambulance after coming across surfers pulling a woman from the water but no one would stop to lend him a mobile phone.
Vivian Fosse Telfar, 54, drowned while swimming near Sutherland Ave in Mount Maunganui on Saturday, two days before she was due to fly home to Norway.
Tauranga police Senior Sergeant Glen Saunders said a surfer spotted Ms Telfar, who was born in New Zealand, about 20 metres offshore, floating face down in the water about 6pm on Saturday.
The surfer dragged her in and members of the public performed CPR until paramedics arrived.
Mr Leckie had just been for a swim about 50m down the beach when he noticed people dragging Ms Telfar up the beach.
"I went hoofing down there,'' he said.
He asked if they needed him to call an ambulance and when they said yes he raced up to Marine Parade to find a phone.
He was unable to get into any of the nearby houses as they were protected by high fences and gates so he tried to flag down passing cars.
"I was basically standing in the middle of the road, in my togs with my hands in the air,'' he said.
The first car to come by slowed and stopped but when Mr Leckie approached the window the driver drove away. The same thing happened with the next four cars he flagged down.
Mr Leckie finally gave up and noticed a man sitting in a parked van he had previously thought was empty.
The tourist in the van gladly lent him his mobile phone.
"I rang the ambulance and they told me to go back to the site. They gave me very clear instructions about how the CPR should be done.''
He relayed the instructions to a woman who was already giving CPR.
Mr Leckie was shocked by how difficult it had been to get help.
"If I got a phone earlier I could have been back at the beach giving CPR instructions. It might have been life and death,'' he said.
St John Mount Maunganui operations team manager Gary Bishell said ambulance staff tried to resuscitate Ms Telfar on the beach but were unsuccessful.
The woman was at the beach with her daughter, three sons and her ex-husband, he said. They were due to fly home today.
Mr Saunders said it was unclear how the woman died.
"We've got no idea if it was a medical issue or just a drowning,'' he said. "It's been referred to the coroner.''
A post-mortem examination was likely to be carried out today, he said.
Mount Maunganui lifeguards also raced to the scene but were not required.
Mount Maunganui Lifeguard Service chairman Paul Treanor said the death was a reminder of the need to treat the ocean with the utmost respect.
Minutes after lifeguards were called to the scene, off-duty lifeguards Callum Knox and Andrew Roy plucked a teenager from a rip near Leisure Island.
Mr Roy said the 16-year-old Hamilton boy had become caught in the rip while swimming.
Mount Maunganui lifeguards had already rescued two swimmers near Leisure Island earlier on Saturday.
Water Safety New Zealand chief executive Matt Claridge said the message to swimmers remained the same.
"Never swim alone, swim between the flags and if in doubt, stay out. That's the risk that people take if you want to swim outside the flags. You need to be a capable swimmer and possess some incredible survival skills, just in case.''
Ms Telfar's death comes almost a week after Te Puke man Bennett William James White, 26, died at Rogers Beach near Otamarakau. It is believed he crashed his motorbike on the sand and the tide came in and took his body out to sea.
Meanwhile the search continues for missing Katikati boatie, Tim Mair. He was swept away at Bowentown Heads after a wave capsized his boat last Monday.
- APNZ