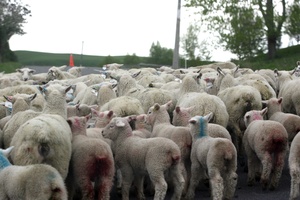 Four shearers are sitting it out in Southland in the countdown to a World Record shearing challenge, in which they could shear as many as 3100 lambs between them on Tuesday.
Contractor and event organiser Brendon Potae says he's given the quartet the weekend off after three weeks preparing for the Heiniger Four-stand Crossbred Lambs Eight-Hour World Record, to be shorn at Centre Hill Station, near Mossburn.
"I've told them to go fishing, sightseeing," he said as he and others from a support crew expected to swell to almost 70 people put finishing touches to the shed where about 250 people are expected to watch the event inside, with others watching on CCTV in marquees nearby.
The focus will be Invercargill shearer Leon Samuels, Eru Weeds, from Ohai, James Mack, originally from Thames, and Golden Shears and New Zealand Open champion John Kirkpatrick, Napier, from left to right on alternate stands across the eight-stand board.
Mr Potae said 3100 lambs have been mustered for the event aimed at posting a four-stand World Record for lambs in eight hours, the first attempt at the category on a register managed by the World Shearing Records Society.
"If they do the 3100 they can knock-off early and go home," he said.. "It wouldn't be a bad day's shearing for eight hours."
The four have all chosen their own woolhandlers for the day, with top South Island competitor Bernadatte Forde, of Tuatapere, looking after Samuels, Weeds having mother Diane Weeds cleaning-up after him, Tia Potae woolhandling for Mack, and former Golden Shears Open woolhandling champion Ronnie Goss, of Kimbolton, siding with Kirkpatrick, fresh from her North Island Open championship win in Marton on Saturday.
Almost $5000 in fees had to be paid to the society, which is providing six judges, convened by Australian Mark Baldwin, and including two from the North Island. South African judge Eddie Archer will also be on hand, being in New Zealand as convener of a nine-hour ewe shearing record attempt by King Country shearer Stacey Te Huia seven days later.
Among those at work today, were those gathering a mountain of food for the shearers and their helpers during the day and its aftermath.
"Crayfish, paua patties, kina ... venison ... It's tough down here," said Mr Potae.
Assuming there are no technical issues such as those which resulted in Judges calling-off a three-stand record bid in Southern Hawke's Bay last week before lamb was shorn, shearing will start at 7am on Tuesday, with four two-hour runs, separated by half-hour breaks for morning and afternoon smoko and an hour for lunch. Judges arrive mid-afternoon on Monday for a sample shear of the chosen sheep in which wool must average at least 0.9kg per lamb.
- APNZ