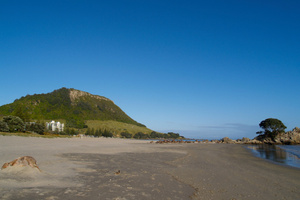 A 54-year-old woman drowned at Mt Maunganui last night despite desperate efforts to revive her.
Lifeguards pulled Vivian Telfer, a New Zealander living in Norway, from the water by a stretch of coast towards Sutherland Ave about 6pm.
Mrs Telfar got into difficulty while swimming with a group of family and friends and was found face down in the water just 20 metres offshore.
Ambulance and police officers rushed to her aid but despite their best efforts, the woman was pronounced dead at the scene.
Mount Maunganui Lifeguard Service chairman Paul Treanor said the death was a tragic reminder of the need to treat the ocean "with the utmost respect".
"We'd strongly encourage swimmers to stay within their limits and to take extra care when swimming on unpatrolled beaches, especially at the end of the day when they might be tired."
Shortly after the Mrs Telfar's death, a 16-year-old Hamilton boy was caught in a rip while swimming at the far end of the main beach.
Off-duty lifeguards Callum Knox and Andrew Roy had been on their way to help the woman, but noticed the boy's uncle waving to them as they drove past on a quad bike.
Mr Roy then swam out to help the boy back to shore.
"There was a lot of water moving out there - it only took about 30 seconds to swim a couple of hundred metres out to him but it took us a good few minutes to get back in," Mr Roy said.
"He was certainly pretty grateful we were able to help him out."
The incidents followed a busy day on the beach, with volunteer lifeguards helping to prevent potential incidents and giving aid to a 63-year-old woman who was airlifted off Mt Maunganui by helicopter and taken to hospital.
Regional lifeguards will continue patrolling Bay of Plenty beaches until Friday.
- APNZ