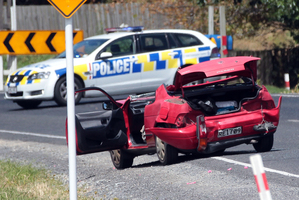 Four people were injured and one man trapped inside a car after a crash involving three vehicles yesterday afternoon.
St John ambulances took the injured people to Middlemore Hospital after the smash on Alfriston Rd in South Auckland about 2pm. One person was seriously injured, two others were moderately injured and a fourth person had minor injuries.
Firefighters used the jaws of life to free the trapped man. A local resident said the Fire Service had to cut the entire roof off to free him.
Meanwhile, a teenage passenger angrily yelled at his driver mate "why did you do that bro?" after an ill-fated attempt to flee from police ended in a high-speed crash earlier yesterday. Residents in Auckland's Mt Eden Rd were woken at 6.45am by a screech of tyres as the maroon Toyota Celica went out of control. The vehicle carrying three teenagers skidded across the road, took out a metal pole and then hit a concrete step in front of GPOS Computers, which stopped the car from going through the glass doors.
The driver, who police said was disqualified, refused to say why he had tried to flee.
But his friend, who was in the passenger seat, and was reportedly the owner of the car, told cops he tried to put the gear stick into neutral to prevent his friend from making a run for it.
As he lay on the ground in handcuffs, he repeatedly said: "Why did you do that bro?"
A female passenger appeared to be in shock after the crash.