Mayor's budget backs $30 million white-water facility at Manukau and cutting grass berms but he's in for a fight.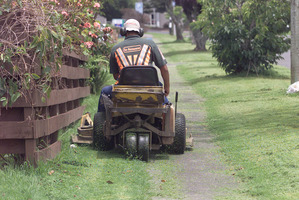 An end to mowing berms in the old Auckland City area and a $30 million white-water rafting project in Manukau are sticking points for public input on this year's Auckland Council budget.
Aucklanders are being urged to have a say on new projects, cuts and savings between now and February 25.
Mayor Len Brown is proposing an overall rates increase of 2.9 per cent this year, slightly less than the 3.9 per cent and 3.6 per cent increases in his first two budgets.
But because the council is still phasing in a new single rating system that created "winners" and "losers", many Aucklanders will face increases of up to 10 per cent while other will receive decreases of up to 3.8 per cent.
Mr Brown has managed to reduce the projected overall rates rise of 4.4 per cent to 2.9 per cent largely through a number of "rats and mice" savings and efficiencies with little impact on service levels.
The main sticking points are an end to mowing berms in the old Auckland City area "so that all parts of Auckland are on an equal footing" in the mayor's words, and the white-water rafting facility in Manukau.
Last October, the council voted 11-9 to let the Counties Manukau Pacific Trust build the facility at the TelstraClear Pacific Events Centre, subject to public consultation. (Mr Brown removed himself from the debate because of a conflict of interest).
The trust will receive $20 million from selling adjacent land and promised to raise the remaining $10 million.
The project has been controversial since 2009 when the former Manukau City Council rejected it.
Councillor Cameron Brewer said it was outrageous for the facility to be dropped into the 2013 budget when it was never part of the council's 10-year plan approved last year.
"It's crazy stuff when you consider we're a country of rivers and the council is borrowing nearly $3 million a day. It's hardly a priority," he said.
There are plans to increase animal control, food premises and hairdresser fees, raise bach fees at regional parks and reduce councillors' IT support to office hours.
Budget proposals
*2.9 per cent rates increase
*$3m saved with end to mowing berms in old Auckland City area
*$30m white-water rafting centre at Manukau
*Higher dog, food premises and hairdressing fees
*Higher regional park bach and campground fees
*$200,000 saved from ending free digital music downloads at libraries
More information: aucklandcouncil.govt.nz/annualplan