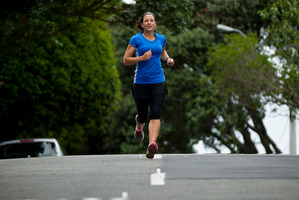 All of a sudden, Elaine Webb's life of juggling three kids and work seems that much easier.
The Aucklander returned to "normal life" this week, after her 720km running journey to raise money and awareness for the Neo-Natal Intensive Care Unit at Auckland City Hospital came to an end with a 51km run to complete her ultra-marathon effort.
"The feeling of finishing it is a massive sense of relief - and a little bit of disbelief that I managed the 51km run to complete the 720km," said Webb.
"My body held up surprisingly remarkably well. I had heel pain and leg cramps at night, and an old knee injury flared up, but nothing a trip to the physio couldn't fix."
The hardest part for Webb was the ongoing mental challenge of running every day.
"Keeping going was tough ... I woke up anxious each morning about how I was going to fit the run in, how far, what route and would I physically be able to keep going.
Keeping the emotion intact was tough, as when I run and think of NICU families I feel for them so much."
When she was battling to run up a hill or was not at her best on her daily 20km run, she drew strength from what her 2-year-old son Alex went through.
He was born after only 33 weeks' gestation and spent 51 days at the Neo-Natal Intensive Care Unit at Auckland Hospital. He was the reason she was running and the reason she never gave up.
The mother of three ran 720km in 51 days - which represented the distance and days spent visiting Alex in the NICU - to raise money and awareness for the facility.
The 30-year-old teacher began running on Friday, November 30 - her son's birthday - and finished on January 17.
She could not have done the run without the support of her husband, Tom, as she was determined that the run would not impact her family. She got up at 5am to get the run in.
"My son Benjamin, 8, frequently cycled next to me so it was actually a great way to spend time with him."
Webb raised $11,313 and people all over the world have donated their kilometres running in honour of NICU families, of which the total running distance was 3049km.
The funds easily exceeded her goal of $6000, which would be enough for the NICU to fit two more rooms with basic equipment. It will enable more families to stay there while their babies undergo medical care.
But the journey has been about much more than just raising money.
Webb, who described herself as an "ordinary athlete", was so humbled by the support she received along the way. "I have met many families who have had a baby in NICU, either premature or medically fragile. The bond that all these families have with each other, and their desire to help others going through a similar experience, is immense.
"I have been in touch with women whose babies tragically did not survive, but they have shown incredible positivity towards this fundraising venture and have gone out of their way to help others.
"These women are utterly inspirational and their selflessness is phenomenal.
"Running 720km totally pales into insignificance to the daily challenge these families face. At times, running up the hills of Waiheke and during the 51km when I had moments of self-doubt or struggled to keep going, I reminded myself of these families and how tough their life journeys are."
To donate to Elaine's fundraising effort, visit Givealittle.co.nz/cause/runningforauckland
To support Elaine on her Facebook page, visit Facebook.com/pages/Running-for-Auckland-Neonatal-Trust/129844230503909