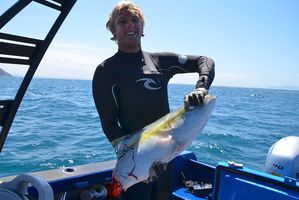 A shark attacked as Steve Clark was struggling underwater against a kingfish on the end of his spear.
He didn't see it coming, but he quickly saw the damage it did. Mr Clark was left with a 9kg head of the kingfish and nothing else.
Mr Clark had been spearfishing off Mangawhai, north of Auckland. He dived under a school of trevally to find several kingfish lurking.
"I just speared it and fought it, and it got munched," he said.
The shark didn't bother him too much - he went right back in afterward - but "it got me out of the water", he said.
A friend had been underwater filming the spearfishing and saw a glimpse of the shark. He filmed the divers jumping back on the boat.
Mr Clark's girlfriend, Amy Fletcher, said the friend's video didn't turn up much footage.
"You can see him shooting the spear gun. Then it's blue, and then it's chaos."
Meanwhile, Department of Conservation staff are becoming increasingly frustrated by tourists and tour operators giving bread, frozen peas and other food to fish in marine reserves.
Hauraki ranger Hayden Smith, who patrols the Cathedral Cove Marine Reserve off Coromandel, said too many people were ignoring signs warning feeding fish was illegal.
While people on private boats were probably the worst culprits, tour operators - or "concessionaires" - who used food to attract sealife should know better, he said.
"Individually, concessionaires have been talked to," he said.
However, commercial operators Shane Harnett and Wendy Helms, whose companies took tours to Cathedral Cove, said private boats caused the biggest problems in their patch.
Both said they knew of no tourist operators who allowed customers to feed fish in the reserve.
"We definitely don't condone it [feeding fish]," Ms Helms said.
Feeding fish is an offence under the Marine Reserves Act because it disturbs and interferes with marine life.
Whangarei-based rangers Marie Jordan and Miriam Ritchie caught three people feeding bread to fish in the Poor Knights Marine Reserve off Tutukaka last weekend.
They received a call reporting people feeding fish in Rikoriko Cave and caught up with them doing the same thing in nearby Maroro Bay about 15 minutes later.
The Aucklanders were horrified to be caught, and unaware they were committing an offence, Ms Jordan said.
"I just explained to them why it was wrong and how it affected the fish."
Mr Smith said prosecutions were difficult.
"You've got to see them from your boat and they're not going to do it with your boat right there."
He said feeding fish disturbed their normal habitat, which defeated the purpose of a reserve.
Anyone who sees illegal activity is asked to report it to the Department of Conservation.
- additional reporting Northern Advocate
- APNZ