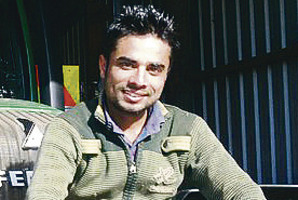 A man whose body was found in Gisborne yesterday may have gone to the Rhythm and Vines music festival before he went missing almost a month ago.
The body is believed to be that of Amandeep Singh, 22, and was found in scrub on a section of Kaiti Beach Rd by people walking in the area last night.
The discovery came hours after police upgraded their missing person case to a homicide inquiry.
Mr Singh, an Indian national, was last seen leaving his Gladstone Rd home in Gisborne at 11pm on December 29. His car was found abandoned in Dalton St in the suburb of Kaiti about 11am the next day.
Detective Sergeant Kevin Ford said police were still trying to establish his exact movements between then.
"He'd told friends he was going to go to Rhythm and Vines but we don't know whether he actually went there or not."
Mr Ford said police had not been able to establish whether Mr Singh had a ticket to the festival but were making progress on establishing his movements.
"We've got a large amount of information and people to see in respect to that."
A Rhythm and Vines spokeswoman confirmed police had asked for help, but would not comment further.
A flatmate and friend of Mr Singh, Vivek Punj, said Mr Singh had told him he was going to the festival and would be out late.
Mr Punj said they thought Mr Singh had decided to spend longer at the festival, so were not alarmed when he did not return home the next morning.
"But we became really worried when he had not come home after a couple of days, so I reported his disappearance to police," Mr Punj said.
"It is very sad what has happened. Amandeep was a good person, a hard worker, with a great sense of humour. He was always funning around. He was quite happy with his life."
Mr Singh's parents and other relations were applying for visas to come to New Zealand.
"Amandeep's disappearance came as a big shock to his family, and to us - his friends and workmates in Gisborne."
Mr Ford said Mr Singh's family had been advised of the situation.
Police and ESR scientists were today conducting an examination of the area where the body was found. That was likely to take a couple of days.
Yesterday they examined Mr Singh's Mazda Lantis car, which was found in an empty section nearby.
Mr Ford said it was too soon to say how Mr Singh might have died.
A post mortem examination was not likely to be carried out until Sunday or Monday.
"We're hoping we'll get an indication, following that, confirming his identity and cause of death."
Police are continuing to appeal for information about Mr Singh's movements
- APNZ