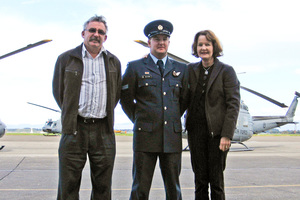 The air force has been criticised for mistakes in dealing with the family of an Anzac Day crash victim.
An independent review has found the failures in the months after the accident destroyed any trust the parents of killed airman Ben Carson had in the Royal New Zealand Air Force.
It also upheld an earlier "independent" inquiry by an air force reservist, although was unable to resolve the Carsons' complaint the reviewer's military links were kept secret.
The report comes 21 months after it was first ordered - and after an extension to seek views from the families of others aboard the Iroquois helicopter which crashed on April 25, 2010. Three air force staff were killed and one critically injured.
Lawyer Matthew McClelland, who carried out the review, issued reports to each of the families, with Ben Carson's parents Andrew and Pauline Carson passing theirs to the Herald.
Mr Carson said the review did not give him and his wife the answers they were seeking - an outcome Mr McClelland had signalled as a possibility.
The inquiry was ordered after the Carsons complained about being left out of briefings which updated the other families on the investigation into the crash. They also complained about being excluded from gatherings of the affected families. Their complaints added to those of the injured airman Stevin Creeggan, whose family were mistakenly told he had been killed.
Mr McClelland's report said the Carsons had been left out of two written updates into the investigation. The communication failure, along with their living in Christchurch, had left them isolated. He said "a combination of factors" meant the Carsons now saw the air force "with absolute distrust".
Mr McClelland said many of the failures he found had been identified in an earlier inquiry carried out by an air force reserve officer.
He said the Carsons believed they were never told of the reviewer's military links - and that former Chief of Air Force Graham Lintott had described the reviewer as "independent".
He said he believed there was no conscious effort to conceal the reviewer's military links.
Mr McClelland said families of two others killed in the crash told him they were treated well, as had the girlfriend of Ben Carson. He made no reference in the report into the feelings of Mr Creeggan's family.
Mr Creeggan has a court hearing this month to try to force the air force to carry out a health and safety inquiry into the crash.