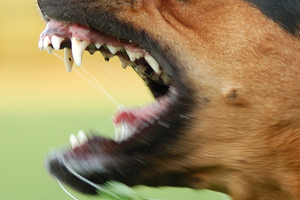 The owner of a pitbull that attacked and seriously injured a toddler has been described in court as a "responsible dog owner''.
Philomena Marcelle Matthews, 37, appeared in front of a community magistrate at Rotorua District Court today charged under the Dog Control Act 1996 as being the owner of a dog, namely a pitbull, which attacked a 2-year-old causing serious injuries.
The attack happened on December 15 at a Ruth St, Fordlands house where the toddler wandered outside and was set upon by the dog, one of two pitbulls on the property. He was taken to Rotorua Hospital with injuries to his forehead and face.
During her brief appearance, Matthews' lawyer, Taryn Tuari, said the dog would be destroyed if Matthews was convicted.
"She is a responsible dog owner . . . she has had the dog for six years and it's always been chipped and registered and she walks it in public in a muzzle.''
The dog was seized by Rotorua District Council's Animal Control Unit immediately after the attack and is being kept in the pound until a judge orders whether or not it should be destroyed.
Matthews was remanded without plea until January 31.
For more articles from this region, go to Rotorua Daily Post