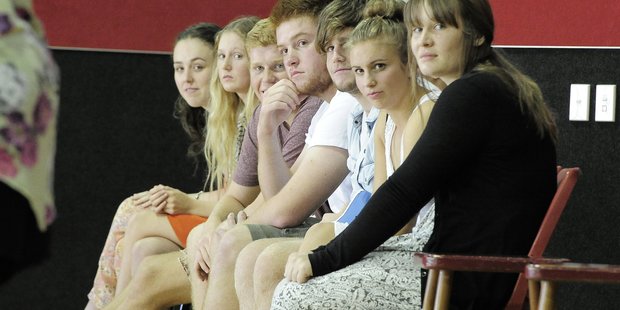 Three teenaged boys have been singled out for their bravery in the wake of a mini-van crash that killed three members of Bay of Plenty school group in Kenya last week.
Survivors of the crash that killed 19-year-old former Bethlehem College pupil Caitlin Dickson and Brian and Grace Johnston shared their experiences at a media conference this afternoon, after arriving back in New Zealand earlier this week.
The mini-van had been travelling along Kenya's Nairobi-Murang'a highway carrying 16 group members when it lost control and rolled into a ditch.
Sam McDougall, 18, who fronted the conference with his arm in a sling, recounted how he woke up shortly after the impact and immediately set about helping others injured with friends David Fellows, 19, and Luke Fisher, 17.
The trio checked others in the van - including teachers Philip Russell and Jan Dean, both seriously injured - and asked each if they were okay.
Sam said he had no idea how serious the crash had been and, having never been in such a situation, was acting on instincts.
Luke meanwhile took the cellphone from driver Christopher Mmata, who also died in the crash, and phoned the rest of the group, who were travelling ahead in a car.
The vehicle turned around and those in it, among them Anna Boggiss, 16, and Luke's sister Joy Fisher, 19, helped assist the others.
Sam said he was heartened to see taxi drivers volunteer their vehicles to help the injured to hospital.
Caitlin and Mr Mmata died at the scene, Mrs Johnston died en route to hospital, and her husband died after surgery.
The group told how they stayed strong together in hospital, and had been humbled by the support received from New Zealand.
"I'll admit I shed a tear," Sam said.
Ten survivors have now returned home, while four remain in hospital.
Earlier today, the survivors shared emotional reunions with classmates at a morning vigil at the college hall, where they shared stories about the trip, sang and hugged one another.
Funeral services will be held at the college for Caitlin tomorrow, and for the Johnstons on Saturday.
Donations made to a Kenya families account set up by the college stands at $27,000, and a further $11,000 had been donated to assist the Johnston family.
Account details could be found on the college website.