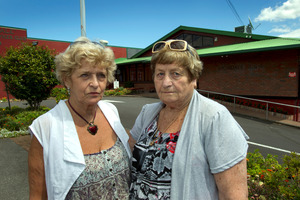 An Auckland woman who ordered a lemonade but ended up with a mouthful of toxic toilet cleaner says she still has health problems as a result.
A cleaner who filled the Sprite Zero bottle with the chemical and the Avondale Returned Services Association (RSA) where the drink was served were today ordered to pay reparation to the woman and her friend who drank from the bottle.
Cleaner Julie Taipeti, 57, and the RSA were sentenced today in Waitakere District Court.
Nola Murphy was celebrating her 73rd birthday with her friend Heatha Anderson at the RSA in February last year and ordered a lemonade at the bar.
"The drink looked like lemonade, it was bubbling up like lemonade, it was a full bottle and I just put it in the glass and drank it," she said outside court today.
She said she felt like her eyes were "popping" out of her head and she had an extreme burning sensation in her throat.
"I thought it was the end," she said. "I didn't know if I'd had a stroke or what had happened."
She went to the bathroom to try to vomit while Mrs Anderson, suspecting it was something to do with the drink, took a small sip to test it.
"It felt like ... there was a big gaping hole instead of my mouth and like I had no tongue and no teeth and I couldn't feel anything," Mrs Anderson said.
The pair were taken to hospital for treatment.
Mrs Murphy said she had ongoing problems with her throat as a result of the incident.
"I'm still coughing and carrying on. It burnt all my throat so it gets very dry still."
In court, Judge David Mather said Taipeti had filled a Sprite Zero bottle with mould and moss remover containing the cleaning chemical benzalkonium chloride.
There was some dispute in court about whether she or someone else had left it on the bar, but Taipeti accepted it had been her responsibility to ensure it was stored safely after using it to clean the toilets.
The bottle was then put into a fridge by another staff member before it was served to Mrs Murphy.
Judge Mather said it was a "most regrettable"incident and ordered Taipeti to pay reparation of $300 to each of the victims after considering her "very limited means".
He also acknowledged the RSA's limited financial situation when ordering it to pay $1500 reparation to each of the victims.
The court was told Mrs Murphy and Mrs Anderson were yet to receive ACC compensation for their medical expenses.
The lawyer representing Taipeti and the RSA, Paul White, told the court both clients were horrified by what had happened.
Taipeti had described putting the liquid in the bottle as "very foolish" and the RSA had said the fact it ended up in the fridge was unacceptable.
RSA representatives and Taipeti declined to comment outside court but Mr White spoke on their behalf.
"From the outset they've all acknowledged their part in this and really regret their involvement in it. That regret's still there now.
He said it was "an unfortunate chain of events"and it had been a difficult experience for all those involved.
Taipeti, who was still working at the RSA, was devastated by what had happened, he said.
- APNZ