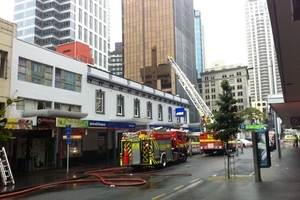 Auckland's fire chief said it was "almost unbelievable'' that no one died in a central city apartment building fire yesterday - as he renewed warnings about the dangers of switching off fire alarms.
The alarms were not working in the two-storey building on Commerce St from which four people were rescued, including two men who climbed onto the roof to escape the blaze.
Auckland area fire commander Kerry Gregory said today the Fire Service were being called to more buildings where alarm systems had been switched off rather than repaired or replaced because they were too sensitive and being triggered frequently.
Talking to Radio New Zealand he said the alarms in the Commerce St building were off but would not speculate on who might have turned them off.
In a statement he said switching off alarms was "completely unacceptable''.
Early warning systems were critical for occupants who had "very little time to escape''.
Anyone in a building who knew of an alarm that had been deliberately silenced should notify the owner or the Fire Service immediately, Mr Gregory said.
"People who live in these buildings and those who have responsibility for the alarms, need to heed the lesson from this weekend's fire.''
The cause of yesterday's central city fire is still being investigated. Mr Gregory told Radio NZ it looked deliberately lit and there were "multiple places'' where it started.
Firefighters said yesterday is started in an apartment that should have been locked.
- APNZ