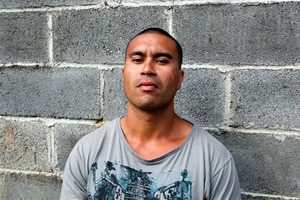 A man considered too dangerous for Australia and deported to New Zealand is now facing serious charges over an alleged home invasion.
Ruane Baker was deported from Australia when he was 21, despite not having lived here since he was 10.
Now 34, Baker is charged with assaulting police, threatening to kill, burglary, intentional damage and resisting arrest.
It has been reported he chalked up his first conviction in Australia when he was 13. Within five years he had 55 more, including armed robbery, assaulting a police officer and car theft. Courts heard he had been living a life of drugs and crime on the streets of Perth.
A violent attempted car-jacking in 1997 - the first charge Baker faced as an adult - was the last straw for the Australian courts and he was jailed indefinitely. Baker wanted to stay in Australia but an appeal court ruled his history of attacking people in the street made him an unacceptable risk.
The deportation order was made despite expert opinion that sending him to a strange place unaccompanied by his family would very probably cause him to reoffend.
Baker was escorted to New Zealand under standard deportation procedures and became a free man upon arriving here.
Auckland police spokeswoman Noreen Hegarty said two men allegedly broke an electronic gate to get on to a property in Pt Chevalier.
"Two men burst into the complainant's house and threatened to kill him," she said. "Police attended and called for back-up."
A police helicopter and police dogs attended the scene and both men were arrested, despite allegedly resisting arrest and assaulting a police officer. Neither the homeowner nor the police officer was injured.
Baker spent the night in a cell before being bailed the next day on a 24-hour curfew.
Baker told the Herald on Sunday the incident had been blown out of proportion.
He said he had been drinking with his family outside his sister's house as his family had returned from Australia for his grandmother's funeral.
"I hadn't seen my brother since 1999. We were having a few drinks and the neighbour stuck his head over the fence and told us to turn the music down.
"I said 'no' and he said some racist remarks so I jumped over the fence to confront him. My brother came over and grabbed me to stop me from doing anything stupid," he said.
His brother Ben Baker, 24, was also charged and has been bailed to the address next door to where the alleged invasion occurred.
Ruane said he had been trying to stay out of trouble since moving back to New Zealand.
He had gained a qualification in youth work, had a girlfriend and a baby. "It was hard coming back to New Zealand when my whole family was in Australia. But I got through it and I've just tried to stay out of trouble. I go to church every week.
"It's hard getting a job with my past but I'd like to help troubled youths. They will listen to someone who has been there and done that," he said.
When the Herald on Sunday visited the West Auckland address this week, police were unable to enter the property because of three pitbull dogs roaming the section. The next day, dog control officers took the animals away.
Baker said he had been allowed to leave the house to organise his grandmother's funeral.