Violence against police has been making headlines for decades, but an attack on a sole-charge officer in Kawhia last week has reignited debate about the frequency of assaults and one-man cop shops.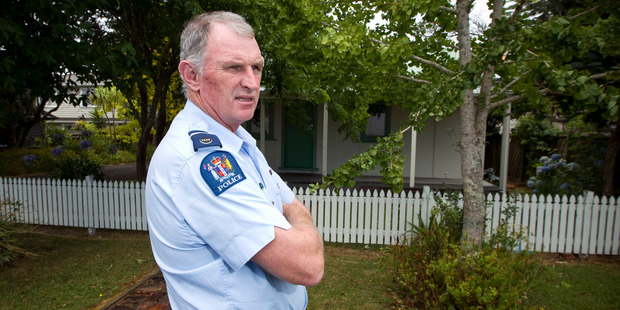 The fit 77-year-old in trackpants and a baseball cap, pottering in his suburban garden, looks just like any other Auckland granddad. Slim with close-cropped white hair and a soft voice, Bruce McPhee seems an unlikely police-killer.
But 50 years ago this month he became one of New Zealand's most notorious murderers when he shot two young, unarmed policemen, Constables James Richardson and Bryan Schultz, after they were called to a domestic incident at his home in Lower Hutt.
McPhee had been drinking beer and had taken tranquilliser pills on the day. The two officers were shot before they got out of their car and died instantly.
McPhee, a 27-year-old toolmaker at the time, was convicted of the murders and sentenced to life imprisonment. He spent 11 years locked up and was paroled in 1974.
For almost 40 years he has had to live with the crime, a horrendous double-murder.
But he has served his time and worked hard after being released, saving enough money to buy a house.
The Herald on Sunday visited him at his home in an upmarket suburb last week, and he greeted us with some hesitancy. No journalist had knocked on his door since he moved there many years ago, he said.
He was nervous about talking on the record but could not help describing his feelings and what life has been like since his release from prison.
At times visibly upset, McPhee said it would be inappropriate to speak, out of respect for his family and his victims' families.
Of course there are nightmares, he says, and he thinks about it every time he sees a police car.
That year, four police officers were killed on duty in as many weeks. On January 6, Victor George Wasmuth fatally shot a kennel owner and two police officers trying to apprehend him. Wasmuth was found not guilty of the murders by reason of insanity.
This shooting, plus the Lower Hutt murders, led to the formation of the Armed Offenders Squad in 1964.
The killings made headlines for months and every year a story ran on the anniversary of the officers' deaths, with anguished debate about whether police should be armed.
What is different today, police advocates say, are the daily attacks on officers that occur between the headline-making crimes.
Last year, more than 11,000 officers were assaulted in the line of duty. Few attacks made it into the pages of even a community newspaper.
Last week, in the North Shore District court alone, three people were charged with attacking police, including a 35-year-old woman.
But an assault on a lone police officer in Kawhia last Friday has reignited arguments about police safety and violence against officers.
Kawhia's Constable Perry Griffin was beaten by up to five people during an attempted arrest of a local man. The assault has divided the coastal North Island town, but Police Association president Greg O'Connor says it is another example of escalating dangers for police, especially those in one-officer stations.
"In recent years, a Mangawhai police officer has been assaulted, one in Raglan and the two in Kawhia," says O'Connor. "More people are prepared to have a go at police and that's what has really changed.
"In small areas the thing that has changed is P. It's not just cannabis in the small towns any more," he says.
Labour's police spokesman, Kris Faafoi, says Kawhia is an example of why New Zealand's 63 sole-officer police stations are no longer feasible, and he is calling for at least two officers in all police stations. "The dangers police officers in sole-charge stations face is enormous," says Faafoi. "They deal with volatile situations which can quickly escalate without back-up.
"At least if there were two people in those stations another person would just be a phone call away."
O'Connor says he would welcome Faafoi's plan to put an extra officer in all one-person stations, but he believes the increasing violence towards officers is the real problem.
"In an ideal world you wouldn't have any police officers by themselves, but even if you put two people in Kawhia they will still not be working at the same time. They'll end up by themselves anyway," he says.
"There are some pretty tough areas out there but that's what some of the guys go there for.
"They like being able to take responsibility for their community. They like the fact it's on their own beat. You are your own man there. Issues arise, of course, such as a call-out, if a man likes to have a quiet beer."

Ian Price knows what it's like to be on call 24/7. The Whangaparaoa community cop was the sole-charge police officer in a remote West Coast community for 13 years.
He remembers being chased down the street by a man wielding a sawn-off shotgun. The nearest police station for back-up was at least 175km away.
"The guy had drug, alcohol and mental-health issues and had just gone through a break-up," Price says.
"I was out looking for him to serve a trespass notice for his former partner's address when I came across him in his vehicle. I pulled him over and he produced a sawn-off shotgun.
"I took off. I ran and he chased me in his vehicle. I put out a call on my radio and, as luck would have it, an Armed Offenders Squad was four minutes' away.
"We would have had a visit from an Armed Offenders Squad once a year. My wife was listening to the whole thing unfold on the police radio in our kitchen. He was confronted by the team and shot himself. It was traumatic," he says.
Price and his then-wife, who is from the West Coast, raised their four children in Whataroa until he was moved to a two-person station in 1996.
"It was a way of life for me and my family. I became fully integrated into the community in my working life and my family life," he says.
"The issues communities are facing would be immensely different today. Hard, class-A drugs are more widely available. Sole officers now have to be much more on guard than I ever had to be.
"The dangers are more, I don't doubt. The unpredictability of people in drug-induced rages cannot be underestimated," he says.
The advantages of being the only officer in a community include the variety of tasks and using local knowledge and relationships to gather intelligence.
"Your best form of armament is your tongue. You can talk your way out of situations and you also have to be a better listener than a talker."
He did find himself in more than one volatile situation. "I was assaulted numerous times down there but I always came out the other side.
"Putting more police officers in sole-charge stations is not the ultimate answer. Even if you have two officers, they often aren't working together because it's better to have them on shift work so the town has more cover."
Price recalls a story about a police officer in Haast, which sums up life as a country cop.
"He was on the floor being beaten up by three brothers in the Haast Hotel. The hotel owner rang the district sergeant in Hokitika, 280km away, at 1am and the sergeant said, 'Tell him to fight harder'."