Council bodies jostle over next stage of Wynyard Quarter development.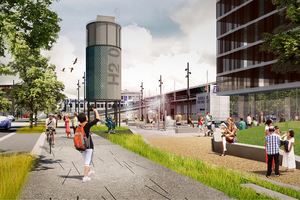 Work on creating tree-lined boulevards to connect Fanshawe St and Victoria Park with the waterfront at Wynyard Quarter will begin next month.
But it is unclear when the project will be completed because the first and second stages are being carried out by different council bodies - Waterfront Auckland and Auckland Transport - with different agendas.
Waterfront Auckland yesterday announced work is due to begin next month to revitalise Daldy and Halsey streets with wide footpaths, trees and grassed areas.
Daldy St will be doubled in width and extended through a block between Pakenham and Madden streets to create a main north-south link from Victoria Park to Jellicoe St. Halsey St will be landscaped at its existing width.
Hawkins Open Spaces has won a $29 million contract to upgrade the two streets on council-owned land between Pakenham St and Jellicoe St.
In a statement, Waterfront Auckland chief executive John Dalzell said the streets would be transformed over the next two years into vibrant spaces that would further draw people into Wynyard Quarter with a transport strategy that promoted walking and cycling options.
The statement made only passing mention of stage two through the privately-owned blocks between Fanshawe and Pakenham Sts in Wynyard Quarter.
Mr Dalzell would not be interviewed about stage two, but a spokesman said the council body was working with Auckland Transport to "ensure a co-ordinated approach to project delivery".
An Auckland Transport spokeswoman said the timing of the project depended on a number of factors and the council body had no start date.
It is understood Auckland Transport does not share Waterfront Auckland's enthusiasm for the project and has not put aside immediate funding for stage two.
The transformation of the two streets follows the successful opening of public waterfront space at Wynyard Quarter in August 2011.