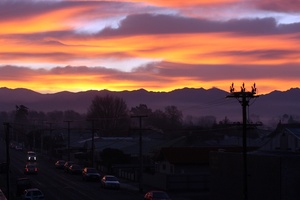 Three missing trampers have been found after spending two nights on the Tararua Ranges.
A 55-year-old Lower Hutt woman and her two daughters, aged 18 and 22, were due to return from their tramp in the Waitewaewae Basin in the Tararua Ranges on Sunday evening.
However, the group decided to take shelter at the Island Forks bivouac when the 18-year-old suffered a knee injury.
High water levels in the river also prevented the women from continuing their tramp.
The woman's husband alerted police on Sunday night when the group failed to return home.
A search and rescue team was deployed yesterday morning and three volunteer teams, with the help of the Levin Four Wheel Drive Club, joined the effort this morning.
They were found at 10am today at the Island Forks bivouac by the Palmerston North Rescue Helicopter.
The trio was airlifted to Levin where the 18-year-old was treated for a minor injury to her knee.
"While the group had good clothing, shelter, a cell phone, and food, they did not have a personal locator beacon or a mountain radio which are crucial to take when you're out in the bush,'' said search coordinator constable Kevin Dalzell.
"There was no cell phone reception where the group was located and they would have had to climb some distance to get reception.''
The woman is reported to be an inexperienced tramper and her daughters are understood to have limited experience.
"It was a good call by the women to stay on the track under shelter until they were located,'' said Dalzell.
"Remember when you go tramping you need to be properly prepared.
"Taking a locator beacon or a mountain radio means that we can find you faster and bring you back home to your family. Don't rely solely on a cell phone,'' he said.