Family afraid after robber points gun at girl before fleeing with small amount of cash.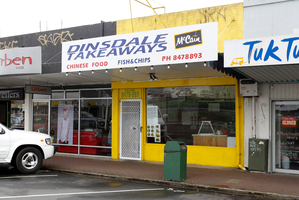 A 10-year-old girl had a gun pointed in her face while working at a Hamilton takeaway bar and her family is now "very afraid".
Police are hunting a man who burst into a Dinsdale Chinese takeaway store and pulled a gun on the girl before demanding cash from the till about 10pm on Saturday.
It is understood that the girl's father told her to give the man what he wanted and he ran off with a small amount of cash.
The Herald approached the Chinese takeaway store in Dinsdale where a middle-aged woman and two girls were working.
One of the girls said: "We are all very afraid."
Asked if anyone was hurt during the incident the two young girls shrugged their shoulders and nodded their heads. They could not confirm whether they saw a weapon nor could they describe the person who had robbed them.
"We can't talk, we are too afraid," said one of them, shaking her head sideways.
Sokay Sen, who runs the nearby Dinsdale Bakery, said the aggravated robbery was disturbing, particularly as the victim was so young.
She said the group of shops her business is a part of - mainly eateries, a jeweller, a liquor store and a dairy - had been targeted by vandals who went on a rampage and smashed windows at five stores on Halloween last year.
People sometimes stole fundraising money boxes from counters.
Faith Gibbs who runs the Abracadabra Costume Hire store said her shop had also been the target of thefts.
Detective Senior Sergeant Nigel Keall of the Hamilton CIB said police were told a man with a blue handkerchief over his face had entered the store. "The man is alleged to have confronted the 10-year-old girl working behind the counter and pulled out a handgun before demanding money from the till.
"The offender made off on foot, taking a small sum of cash and was last seen running towards the Rifle Range Rd and Killarney Rd intersection."
Mr Keall said police were arranging specialist child interviewers and translators to help with the inquiry.
The Herald understands police will check surveillance footage from a number of businesses in the area.
Police want to speak with anyone in the area at the time of the incident who saw someone running from the scene or acting suspiciously.
The offender was described as thinly-built with a fair complexion and distinctive blue eyes wearing a grey or light-coloured hooded sweatshirt with a blue handkerchief or a bandana over his face.
Can you help?
Anyone with any information on the identity of the offender or who saw anything suspicious is asked to contact Detective Sergeant Ricky Thompson at Hamilton police on (07) 858 6200.