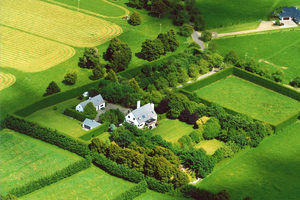 It's something of an understatement when Simon Urquhart-Hay says his father was good with his hands.
In fact his dad, the late Donald Urquhart-Hay, was one of New Zealand's leading surgeons and performed the first live kidney transplant in Wellington in 1968.
When urology specialist Donald wasn't carrying out operations, he liked to use his manual dexterity in other ways. His many interests outside of his job included woodwork. "He was very good at it," notes Simon.
Donald also had a great eye for detail and he put these abilities to good use when he and his wife Pamela had a new home built at Te Horo, near Otaki, in 1990.
They had recently returned to New Zealand after Donald had been working in the Middle East for several years and, although they had lived in Wellington for many years, they decided it was time for a change.
They knew the Te Horo area because friends lived there but houses they looked at weren't quite what they were after.
So they bought just over 5ha of land alongside the Otaki River and had a house constructed to their specifications.
"Dad designed the house and then got a draughtsman in to draw up the plans," says Simon. "He knew exactly what he wanted."
The resulting home is a large and gracious English-style home set in beautifully landscaped gardens. Many of the ideas for the house, such as the sweeping staircase, came from homes they had seen in the UK, where Donald had lived while training as a surgeon and met his wife.
The house is cleverly laid out so that the living rooms on the ground floor, which are accessed from the grand entrance lobby, all flow into each other, mostly through double doors. The spacious kitchen and breakfast area opens on to the dining room, which leads through to the living room, off which is the study.
The kitchen also opens to a covered terrace on the eastern side of the house that is ideal for al fresco dining. A covered patio off the dining room faces north and enjoys lovely views over the lawn.
Upstairs are four spacious bedrooms, including a master bedroom with en suite.
An enormous three-car garage was constructed opposite the house and also contains a workshop, toilet and an upstairs room Donald used as a second study.
"This could easily be converted into a granny flat. It was designed with that in mind," says Simon.
Donald was an avid collector of clocks and when the garage was built he couldn't resist adding a piece de resistance - a clock tower.

Ten years later, when he added another garage - this one with space for two more cars - he had it topped with a bell tower.
Once the house was completed Donald and Pamela turned their attention to the gardens, planting hundreds of trees and shrubs. But perhaps Donald's greatest achievement - and another example of his skill with his hands - was a stone wall he built himself around a stand of protected totara.
"That was Dad's big project," recalls Simon. "He could only work on it when he had spare time and it took 10 years to finish. He would go down to the river to get rocks. He finally finished it in 2009 and he obviously did something right - it has survived a couple of earthquakes."
Donald and Pamela had many happy years in the home. Sadly, Donald died in 2011 and it is now time to let the property go. "It's been more than 20 years of accumulated effort and they ended up with a pretty special home," says Simon.
- HERALD ON SUNDAY