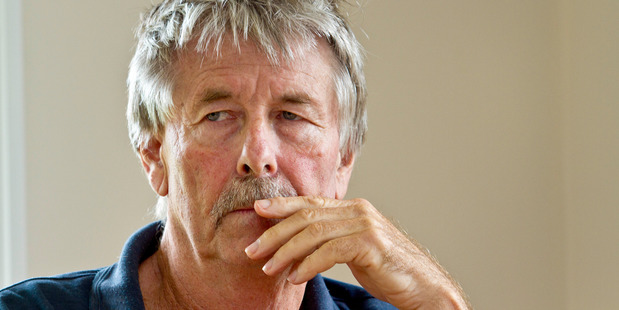 A world champion yachtsman was mistakenly cleared of cancer when pathologists misread his biopsy.
Now Murray Crockett is spending his dying days fighting for compensation to help support his family.
The 66-year-old grandfather was recovering from prostate cancer when he spotted a small red and crusty lump on his shoulder two years ago.
He thought it was a mosquito bite but, given his cancer history, took the precaution of an urgent biopsy.
Auckland surgeon Richard Martin sent the tissue samples to Diagnostic Medlab for assessment.
The results came back as negative a week later, but the surgeon asked for a review of the cells to double-check the cancer had not spread. Again, the findings came back as negative.
Six months later, a lymph node in Crockett's armpit began to swell.
A third review of the biopsy tissue was ordered and the results came back as positive.
By then, Crockett said, it was too late and the cancer had started to spread throughout his body including his bones, lungs and lymph nodes.
He was diagnosed with advanced melanoma and given a few months to live.
"It has broken me, these bastards broke me," he said, looking at the dozen medication bottles cluttering his kitchen bench.
Crockett, whose team won the World ¼ Ton Championship in France in 1975, lives in Warkworth with his partner, Pauline Kent. But the misdiagnosis has forced him to shut down his business, sell his house and quit competitive sailing.
"They have given me a death sentence," he says.
"I can't sit down, I can't mow the lawns. I was surfing at 47 but I'm knackered now. I just can't do it."
A Diagnostic Medlab report written by pathologist Patrick Emanuel said the reading was difficult because the cancer was "extremely small".
The company's histology clinical director Mee Ling Yeong said she did not have enough time to review the file to provide comment but said it was a complex case.
Crockett lodged a treatment injury claim with ACC in September, but it was declined after five independent pathologists reviewed the slides as negative.
However, ACC failed to read specific instructions from the surgeon that impacted on how the slides were reviewed.
The five pathologists were asked to assess the slides again and, this time, three out of the five came back as positive.
The results still did not satisfy ACC, which sought a further, independent review from an oncologist.
Meanwhile, Crockett's life expectancy was shortening by the day. So Crockett's lawyer Simon Buckingham contacted the Herald on Sunday in a desperate bid for help.
The Herald on Sunday made enquiries with ACC, which did a U-turn on its decision and accepted his claim within 12 hours.
Spokeswoman Stephanie Melville confirmed the application for lump sum compensation was fast-tracked and paid before Christmas.
"ACC has great sympathy for Mr Crockett's situation, and we understand his frustration at the time it took to make a decision on his claim," Melville said. "However we believe ACC dealt as promptly as it could with what was a very complex claim which required the opinions of several clinical experts before it could be accepted."
Crockett is hoping that he can be given a new experimental drug. He's awaiting a decision from GlaxoSmithKline.

Department unaware of errors
The Ministry of Health had no idea of repeated, major errors in reading cancer biopsies until a Herald on Sunday investigation.
In May last year, this paper discovered two women had been wrongly diagnosed with cancer. One had her breasts removed unnecessarily and the other's diagnosis and treatment for breast cancer was delayed unnecessarily.
Four other women, or their doctors, came forward to share similar stories, including one who mistakenly had part of her jaw removed because of an incorrect biopsy. In one case, a lab technician had dropped two people's tissue samples on the floor, then mixed them up.
Associate health minister Jo Goodhew ordered an inquiry into the biopsy errors, most of which occurred in pathology laboratories.
Ministry of Health chief medical officer Dr Stewart Jessamine said they only became aware of the "possible systemic issue" in June, after the Herald on Sunday investigation.
He said district health boards were responsible for reporting errors through a Serious and Sentinel Events system, which makes them public annually.
Documents obtained under the Official Information Act show some of the women felt no one was willing to listen until after the Herald on Sunday investigation and the official inquiry.
One woman told the inquiry: "At least someone is taking a little more interest."
One victim waited three months for an apology from the laboratory. Another found out about the error through a psychologist.