Busby Noble fulfilled a pledge - he got off his couch and made one dream come true. John Weekes meets the Antarctic voyager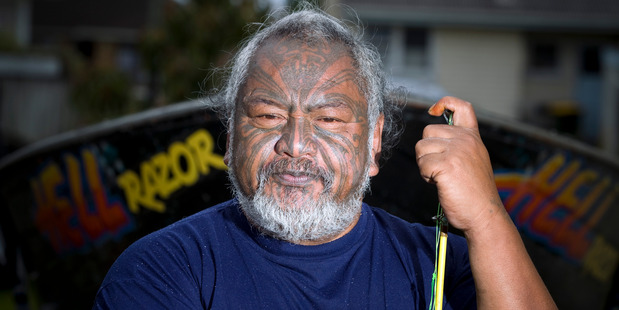 Here in the Otara outcrop of fast-food joints and standard-issue state houses, Busby Noble picks up trash to get his yard in order. A scrawny cat appears. It looks like those wild, lean, mad-eyed ones from the Third World.
"Someone said, 'here, have a boy cat'. I come back from Norway and it's got three kittens," Busby Noble laughs.
Suburban life is exotic for the newly-returned adventurer. Noble was an enigma when travelling on a 16.4m yacht beside icebergs in the Antarctic. He was a curiosity on red carpets in Norway, meeting dignitaries. Back home, Noble, 53, is still a curiosity.
Who else recalls a renegade polar voyage with a polyglot crew, under the command of an explorer of widely-questioned sanity? Can we have a show of hands for a man who survived the graveyard of sailors, was arrested in Chile, became a celebrity in Norway, all in the span of a year?
"I don't realise what famous-osity means," Noble laughs.
Seeds of the voyage were planted two summers ago, when Noble was in lush Opua in the Bay of Islands. His cousin's 50th was approaching.
So was the 17th birthday of Samuel Massie, the youngest member of legendary Norse lunatic-hero Jarle Andhoy's ill-fated Berserk crew.
The Berserkers were readying the boat for Antarctica. Noble's cousin was helping out. Noble's family invited the Berserkers to celebrate the two birthdays together. The group agreed to keep in touch.
The ship sank in February 2011, with the loss of three crew, including Noble's South African friend, Leonard Banks.
After the disaster, Noble told the survivors: "Look, I think it's wise if you come back and pay homage to these boys in a year's time. It's what we do as Maori, anyway."
Eleven months after the tragedy, Andhoy bolted out of Auckland on the yacht Nilaya. Aboard were Massie, Argentine Juan Manuel Hernandez, Russian Sergey Smirnoff and an "unnamed New Zealander", later said to be a 52-year-old activist from Otara who had gone down to plant a Maori independence flag in the polar ice.
A series of meandering explanations for Noble's presence on the boat didn't help his cause. Some reported he'd fallen asleep. At one point, Noble's wife, TP Teiho, believed her man had been kidnapped. His Mana Party, however, made it clear Noble was an intentional traveller.
Customs, MFAT and the Department of Labour investigated. The law requires anyone wanting to "carry out any activity in Antarctica" to prepare an environmental impact assessment and apply for appropriate permits. Noble did neither. He didn't even have a passport. For his sins of omission, he was expected to at least face a massive fine on his return.
He remains defiant. "As far as I'm concerned, this is my passport," he says, pointing to himself. "I was not kidnapped or a victim. I went with some knowledge of what my duties were."
Others are sceptical. Charlene Banks, twin sister of Leonard, said Noble was good friends with her brother but Andhoy used him.
"The sensationalism that was created with having Busby on board was calculated and planned, otherwise it would just have been a tribute voyage," she wrote this week.
Philanthropist and adventurer Gareth Morgan said at the time he hoped Andhoy sank. Noble remains anguished at those comments.
"The likes of Gareth Morgan and his comments wasn't a very comfortable feeling way out in the middle of the ocean. We were made to feel like fools. In reality, we went down there for a purpose. And the purpose was to go down there and respect our friends."
The South Aucklander seemed ill-prepared for a trip to the world's wildest ocean. "My dad taught me how to fish on the Manukau Harbour and the Waitemata. That's about the only experience I've had with boats."
The expletives bloom when he talks about the Antarctic. "It's a dangerous place, bro. Huge waves, icebergs are 20 times the size of the houses."
But whatever Noble's know-how and Andhoy's ethics, they made it to Ross Island, not far from Mt Erebus.
"We touched land at Horseshoe Bay. That's where we first experienced the gale force winds. For three days and three nights we parked there. We were on two-hour watches, to make sure the chain had not moved from anchor."
No passport, no ocean-going experience, the memory of tragedy and the legal problems had some compensation. "I've got to admire the beauty and majesty of the whole place," Noble says, tilting his head up as he recalls the cool, clean air and pristine landscape of a place few people have been.
The memorial ceremony over, Andhoy said he would keep searching for the old sunken Berserk and for answers to its sinking. But Nilaya's boom broke, supplies of food and diesel reportedly dwindled, and the search was called off.
Instead of returning to New Zealand, they sailed east to Chile and were arrested. Noble was confined to the boat after the March 31 arrests. Ten days on, the men were freed. It was soon clear a homecoming was due for Andhoy and Massie, but not for Noble.

With a goofy bucket hat and a trolley full of luggage, Noble arrived in Norway on May 9. He had been a self-declared "political refugee" for some time. Still, he told reporters, he'd be back home in a month. After all, Teiho was still lonely and upset. It would take something special to keep Noble away from home much longer. He engaged in social work with Tangerudbakken Borettslag, a Down syndrome organisation.
By the time the northern summer dawned, Noble knew enough to teach the youngsters how to sail.
Noble also rubbed shoulders with the Norwegian elite, Andhoy fans fawned over him and he attended numerous functions. In mid-summer, he sailed around Norway on an old wooden Viking-style boat.
In spite of the adventures, he maintained an interest, even obsession, in New Zealand politics. He brought that back with him when he passed through Customs after a 30-hour flight. Back on home ground, he still distrusts the establishment. "While I'm feeling free and happy now I'm also mindful that some day, early in the morning, someone's going to knock on my door."

If that knock comes, those doing it will stroll up a short stretch of lawn past Hell Razor, Noble's new outboard. A bargain online for $400, he says. Noble wants to encourage South Auckland's idle youth to shake themselves from the sedated, alienated world of PlayStation and lounge-lizardry.
"These young boys here, I've got to get them off the couch. This type of stuff ... it's happening all over South Auckland."
He has taken to referring to himself in the third person - but remains dedicated to some idea of serving others, however nebulously he explains it.
"It's always been about this purpose. It's never been about Busby Noble. It's always been about closing chapters."
What one lesson does he want people to take from his mission? "Get off the couch and make your dreams come true."