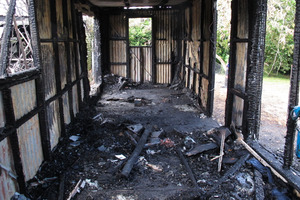 A teenage boy is lucky to be alive after he woke up to find his bed on fire.
The blaze destroyed Luke Jones' sleepout and an adjoining garage on State Highway 12 east of Kaikohe, but left the 15-year-old unhurt.
Fire bosses and Luke's father, farmer Bruce Jones, say the fire is a harsh wake-up call about the need for smoke alarms, especially in sleeping areas.
Mr Jones was out milking when Luke was woken by heat about 6am yesterday. "He couldn't work out why he was so hot, and woke up to find flames on the bed beside him. He hoofed it out of there and woke his mum, who called the fire brigade."
The sleepout had no smoke alarm so it was lucky he woke up before he was overcome by smoke. "It's a wake-up call, a big one. You never think it's going to happen to you."
Mr Jones said his son was holding up well, but the shock would hit him later.
The fire had destroyed all his possessions and when the Advocate called yesterday Luke and his mother were buying some replacement clothing - and enough smoke detectors to fit out the house.
The fire spread to an adjoining garage where it destroyed tools, saddles, fishing rods and camping gear, just as the family was about to head to Kai Iwi Lakes for a camping holiday.
"Lucky the important thing survived, and that's my son," Mr Jones said.
Fire Service volunteer support officer Brad Mosby said with no smoke detector in the sleepout the teen was lucky to be alive. Had the fire started at 3am instead of 6am, when he was in a deeper sleep, he might not have woken up.
Smoke could put people into a deeper sleep or asphyxiate them, Mr Mosby said.
Given the size of the sleepout, the fire would have taken seconds to develop and only minutes to "flash over" - when everything in the room ignites at once.
"We can't urge enough the importance of having smoke detectors in sleepouts and every room where people sleep."
Far North fire investigator Gary Beer traced the cause to a light switch above the bed.
For more articles from this region, go to Northern Advocate