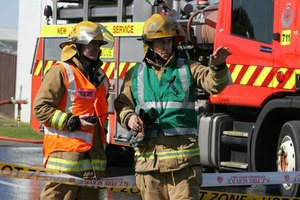 A house on Waiwera Beach north of Auckland has been razed in an early morning fire.
The property went up in flames just before 3am.
It is understood no one was inside when the fire broke out.
Neighbour David Williams said the latest tenants had moved out of the house yesterday afternoon.
"The thought is that something might have been left on, but I don't think there's much to see where it started now and we see the total devastation.
"There's nothing left of it, just the chimney standing and within 30 minutes it just totally destroyed itself," said Mr Williams.