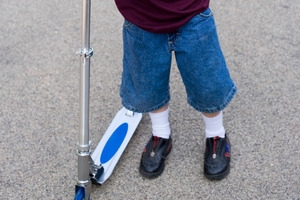 The parents of a 3-year-old boy who was hit by a reversing car at a Raglan boat ramp this morning have praised the quick response of members of the public.
The boy, from Christchurch, was being assessed at Waikato Hospital's emergency department this afternoon after he was hit when he fell off his scooter at the boat ramp car park at Manu Bay about 9.25am.
It was hoped he would be released later today.
"He is a very lucky boy that there were people around able to help so promptly,'' the boy's mother said.
The driver of the car and two bystanders offered immediate help.
"It was great to see the public do what they did. It was a pretty good example of the goodwill of people,'' she said.
The boy had a helmet on and while the wheel of the car was on him briefly, no bones were broken as the car was travelling slowly.
The driver was quickly alerted and the boy was rescued.
The mother, who was out surfing, thanked a fellow surfer who paddled out to get her and calmly helped her back to her husband and other child.
There was also a doctor from the surfing community at the scene.
The boy's parents said they did not blame the driver or anyone else.
"We were certainly thanking God as we were being transferred by the helicopter. Thanks to everyone in the emergency services as well. They were marvellous.''
Sergeant Andrew Mortimer of Raglan police said it appeared the driver did not see the child and it was too early to say if any charges would be laid.
"The surf and weather conditions were very good at Manu Bay at the time and the car park area was packed with both vehicles and people when the accident happened,'' he said.
"There is also a lesson for parents to ensure that they fully supervise their children, especially in and around car parks and other vehicles, remembering that roads and car park areas are specially designed for the flow of vehicle, not pedestrian traffic''.
- APNZ