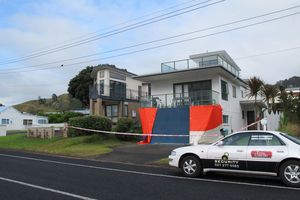 Waikato police have been flooded with hundreds of photos taken the night a holidaymaker was fatally stabbed at Waihi Beach.
Last week, police appealed for any photos taken between 12.30am and 1.30am on New Years Day in order to piece together events and identify people at the beach.
Murray Wilkinson, a 64-year-old ex-pat New Zealander living in Queensland, died in Waikato Hospital on Thursday after he was stabbed in the neck and head when he went to investigate a noise outside the caravan he was sleeping in at a Beach Rd house.
Detective Inspector Chris Page, said as the murder investigation headed into its eighth day, the events leading up to the fatal attack on Mr Wilkinson were becoming clearer.
"We knew there were a lot of people, predominantly intoxicated youths, in and around the area where the attack took place and we have confirmed there were several incidents of assaults and disorder.
"What the response to appeals for information and images has done however, is enable us to identify people, places and times as we piece together the various parts of the jigsaw of our investigation.''
Mr Page said about 30 police staff from across the Waikato, Central and Upper North Island continued to work on the case.
While police had a wealth of statements and images to review, Mr Page encouraged others who were at the beach and had not spoken to the enquiry team to contact them.
The public can contact the investigation team via the Operation Brad crime line, 0800 Op Brad (0800 672723). Alternatively information can be left anonymously with Crimestoppers on 0800 555111.
- APNZ