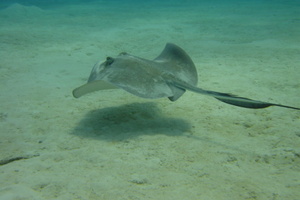 A suspected stingray attack in Wairarapa on a man retrieving his crayfish pot felt like "a shot from an electric eel".
Riversdale Surf Lifesaving Club patrol captain Matt Ritani said the stingray attack happened about 2.30pm yesterday.
The crayfisherman's wife, who had been with her husband as he retrieved his pots, alerted lifeguards that he had been stung.
The man had felt a jab "like a shot from an electric eel", dropped his pot and started back for the beach.
He and his wife headed for the clubhouse on their motorbike, and on arrival the man was in severe pain.
"We made sure the wound was clean and dressed and had him on oxygen.
"Then we contacted the emergency services and a rescue helicopter was sent out to take him to Wairarapa Hospital, where he was checked out before returning to the beach," Mr Ritani said.
The attack had all the hallmarks of one by a stingray, though there was no absolute proof.
"We are not exactly sure but judging by the wound and the amount of gunk in it, both us and the doctors think it was a stingray attack."
The injured man, from Wellington, was staying at Riversdale Beach.
Earlier in the day, a 4.3m 'tinny' boat with three people aboard capsized while returning to shore. A beach-goer saw the incident and raised the alarm.
Mr Ritani took a tube out to the men and made sure they were all uninjured. He said all three had been wearing lifejackets.
The only snag was that the anchor had fallen out of the boat and was caught on the seabed.
The anchor had to be freed before the boat could be brought to shore.
Mr Ritani said it appeared the only loss had been the men's cellphones.
"They were very lucky because boat capsizes can often have a very different outcome," he said.
For more articles from this region, go to Wairarapa Times-Age