Salt air and hot sun are every Kiwi boy's companions in this classic holiday snapshot.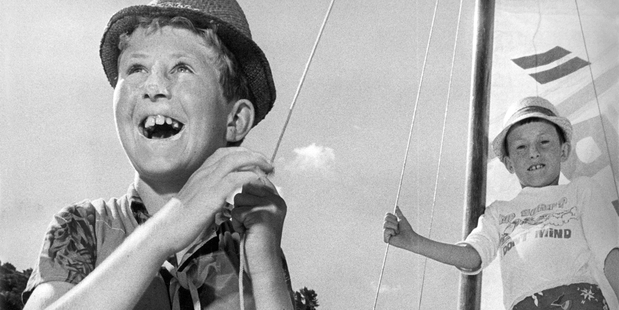 Findlay Brothers Murray, Kevin and Ian shared so many summers at "the Mount" that they barely recall this stunning photograph from 1968.
But they do remember the summer getaways to Mt Maunganui from their family home at Hamilton with their fourth brother, Russell, and parents Ron and Shirley.
Ian, now a games importer and distributor, was stunned to see the image from 44 years ago.
"That picture is a real throwback isn't it? I do remember the photo now. What it reminds me of is how Mum used to love making outfits for us. I'm pretty sure she would have made those shorts.
"That yacht was Kevin's P-class, he was more the sailor. But we all used to drag a fibreglass dinghy into the water and sink it, then bail it out and sink it again."
Ian, 52, has four grown children but no grandkids yet.
"We lived at the Mount every summer. For the first few years it was in a caravan at the camping ground on the harbourside.
We went back every summer right up until our late teens and probably even later."
Their father died last month and Russell died a few years earlier from cancer.
Says Kevin, who still has a little trailer-sailor: "It's a shame our Dad wasn't still here to see the photo being brought out again. He'd be tickled pink.
"The whole family went for each summer over 18 or 19 years."
Kevin, 56, has worked in teaching and clothing distribution and still enjoys beach holidays with his four children and three grandchildren.
Ian and Kevin live in Auckland, while Murray and their mother still live in Hamilton.
Murray's most vivid memory of summers in Mt Maunganui is the year he broke his arm playing cricket and had to wear a plastic bag over the cast when he went to the hot pools.
"Dad also used to take us up the Mount, sometimes on his back. He'd been in the army and was very fit."
Full-time lawnmower Murray, 53, has no kids but will be at the Mount for 10 days from Boxing Day, continuing a tradition of more than 50 years.