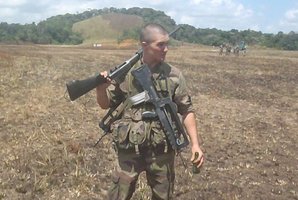 Swimming 20km through alligator-infested rivers and killing an anaconda are just part of the job for a young New Zealander who ran away to join the French Foreign Legion.
Eamon Tolhurst isn't one to brag. But the 22-year-old has spent the past two years in the jungles of French Guyana, South America, fighting gold smugglers armed with assault weapons in some of the world's most inhospitable terrain.
In 2010, the Herald on Sunday revealed how Tolhurst had signed up with the Legion, the famed fighting unit of volunteers and mercenaries.
Tolhurst, a former Sacred Heart College student, wandered into the Legion's head offices to sign up in March 2010 - without telling his parents, Auckland lawyers Mike Tolhurst and Marie Devoy.
But since then he has kept in close contact with his family, informing them regularly of his scarcely believable adventures.
Tolhurst was initially sent to "The Farm", the Legion's boot camp in the shadows of the Pyrenees mountain range in southern France.
After months of weapons training and combat simulations he was posted to French Guyana, on Brazil's northern border. The territory is governed by France and he had to fight smugglers who use mercury to extract gold, causing huge environmental damage.
He had paddled down piranha and alligator-infested waters to avoid difficult terrain and on one occasion killed a giant anaconda with a knife.
Mike Tolhurst said his son did not want publicity but they were all very proud of him.
Mum Marie Devoy, who visited Tolhurst in South America, said: "It's just like the Wild West, it's just so extreme. It's just real survival."
Every legionnaire changes their name upon enlistment and Tolhurst now has a French passport under a new name.
He has posted pictures of himself in boxing matches, playing rugby and leading legionnaires in a haka.
Tolhurst keeps in touch with friends through his Facebook page. Last year he wrote: "The grass is always greener on the other side. But never so much as to merit abandoning the grass on your side."
He has since transferred to the parachute regiment based in Corsica and is now serving in Gabon, West Africa. He has told friends he is looking forward to avoiding the Northern Hemisphere winter.