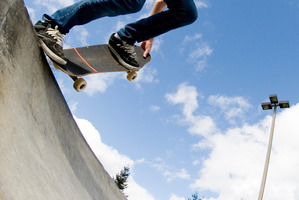 Thrill-seeking skateboarders are putting themselves and others at risk by pouring a mix of petrol and diesel over ramps, says a fire safety officer.
Volunteer firefighters from Hikurangi in Northland were called to the skate ramp near Lake Waro Reserve when a member of the public became concerned about the safety of skaters and spectators after a flammable concoction was poured over two of the ramps on Sunday. Liquid was reported leaking from plastic containers at the park.
Fire safety officer Craig Bain said it was exceptionally lucky that cigarette smokers kept their distance.
He said youths had poured a mix of motor oil and petrol on concrete and timber ramps to effect skids with boards and bikes.
Firefighters in full protective gear and breathing apparatus collected the containers to make the scene safe.
"There was a high odour of fuel in the air around the park meaning that a stray spark from an errant cigarette could have ignited the pooled fuels, possibly injuring those near-by," Mr Bain said. "It's a silly practice which could end in a volatile situation, all in aid of a thrill."
Meanwhile, fire restrictions are in force across the Far North from this week as wind and sunshine dry out vegetation and increase the fire risk.
People lighting outdoor fires need permits year-round in the most fire-prone areas of the Far North - the Aupouri and Karikari peninsulas and coastal areas near Kaitaia - but the Northern Rural Fire Authority is expanding the restricted fire season to the rest of the district from Monday.
The only fires allowed outdoors without a permit are gas barbecues, hangi, cultural cooking fires, wood-fired barbecues and braziers. Those are allowed in places clear of vegetation and buildings if the wind is less than 15km/h, an adult is present at all times and a supply of water is available to put out the fire.
Kevin Ihaka, Whangarei/Kaipara rural fire officer, said if there was not significant rainfall within 10 days, fire restrictions would be put in place. However, people still needed to be careful, regardless.
For more articles from this region, go to Northern Advocate