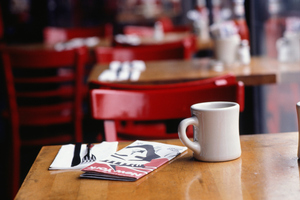 A cafe worker who claims to have been sacked after just a fortnight because her co-workers didn't like her has failed in her bid for $10,000 compensation.
In its decision, released today the Employment Relations Authority (ERA) did not agree with Marie Goddard's version of events which led to the termination of her employment at the Cabbage Tree Cafe in Tirau last year.
On the day in question, Ms Goddard claimed she was called into general manager Nigel Brown's office because he wanted to talk to her.
She claimed that the first words Mr Brown said were: "I have to let you go".
She said she broke down and cried and asked why. Mr Brown said "the girls" - other staff members who had been at the cafe for several years - were not happy. He did not elaborate on this.
Mr Brown's evidence was that he had told Ms Goddard that two staff members were upset about her being "bossy", to which she had responded that they were "ganging up" on her.
He said Ms Goddard had started crying and asked what she should do.
Because she was so emotional, he said he responded by saying: "We'll leave it at that then."
Ms Goddard then "stormed out" of the office and left the building.
When she didn't come back to work the next day Mr Brown said he did not attempt to contact her, as he considered she didn't want to come back.
ERA member Kenneth Anderson found that Mr Brown's version of events was more likely to be true.
However, he said that a fair and reasonable employer would have contacted Ms Goddard to ascertain her wellbeing and when she was coming back to work. He found, therefore, that she had been unjustifiably dismissed.
"I conclude that the reality of the situation is that Ms Goddard displayed no intention of wishing to retain her employment," Mr Anderson said.
"And while I have found that the employer had legal obligations to make contact with Ms Goddard, those obligations are reciprocal and I decline to award any remedy in the circumstances. In reaching this conclusion, I particularly take into account that Ms Goddard had only been employed for two weeks."
- APNZ