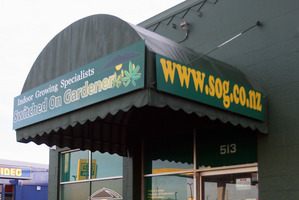 Jurors have been warned not to be influenced by their own views on cannabis law as they consider their verdicts on whether or not Switched on Gardener executives were selling equipment knowing that it would be used to grow the substance.
The Crown says Switched on Gardener was a "one-stop shop'' for cannabis-growing equipment which it supplied to people, including undercover police officers posing as growers.
Michael Maurice Quinlan - the owner of Switched on Gardner - is alleged to have been the head of the operation.
Quinlan's two companies, Stoneware 91 Ltd and Hydroponics Wholesalers, are also on trial.
Also in the dock was general manager Peter John Bennett, business development manager Ricky Cochrane, distribution manager Andrew Barry Mai and the South Island manager Paul Kenneth Barlow.
They have denied charges of belonging to an organised criminal group and supplying equipment used to grow cannabis.
In his summing up to the 11 jurors today, Judge Gus Andree Wiltens there were nearly 1500 pages of evidence to consider.
As well as giving them in-depth instructions on the law, Judge Andree Wiltens gave them a warning.
"Some people may not like the fact that possession of cannabis and the consumption of cannabis is against the law but it is.
"Regardless of whether you might like the fact - it is illegal.''
The trial is now in its ninth week. The jury has now retired to consider its verdict.
- APNZ