Concrete falling down a lift shaft in central Auckland today resulted in an "explosion-like bang'' and a suspected perforated eardrum for one man.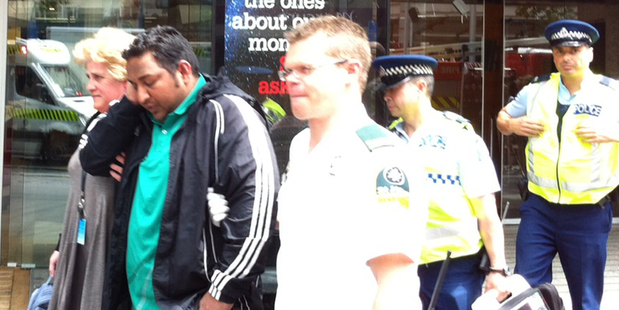 Eyewitnesses saw a man being escorted out of the Westpac building on lower Queen St, where he was taken into an ambulance while holding his ear.
An ambulance spokesman said a man in his 30s was being assessed at the scene after a loud boom was heard in the top of the lift about 11.25am.
"There was no fire, no flames or heat present at that time.''
Auckland Fire Service senior station officer Mike Shaw said an "explosion-like bang'' was heard by two people riding in the lift from the third floor down.
"A gentleman and a lady in a lift were descending, they were coming from the third floor, got to the second floor, they've heard a loud explosion which has resulted in some injuries to his ear.''
A woman who was in the lift likened the sound to a light bulb exploding, and said it felt like the lift dropped slightly while descending, Mr Shaw said. The man suffered injuries consistent with a perforated eardrum.
The Fire Service found no evidence of an explosion. Some minor construction fit-out work was being done at the time of the incident, so something being dropped onto the lift couldn't be ruled out, he said.
Westpac spokesman Chris Mirams confirmed the man was a Westpac employee and said the company's main focus was that he had all the support and care he required.
The company responsible for the building, commercial real estate managers CBRE spokesman Richard Ellis said there was a loud noise in the lift but he declined to comment further.
"Look, the Department of Labour are investigating and, no comment.''
Schindler NZ CEO Dirk Ryken said the mystery sound was not caused by the lift.
"There's some builders on site there, and they've actually dropped some concrete down the lift shaft.''
Mr Ryken said the Schindler's workers investigated the shaft and found a falling piece of concrete had caused the bang, but couldn't say "how or why'' it happened.
A piece of concrete was found in the lift's "pit'' but how it had got there was in question, he said.
There were no dents on or around the lift, Mr Ryken said.
A spokesman for the Ministry of Business, Innovation and Employment's labour group said investigators had assessed the incident and would be conducting "preliminary inquiries'' to determine whether a investigation was warranted.
Investigators would have to determine serious harm had been caused before launching the investigation, he said.
"They had a look around and there's some doubt about the severity of the injury,'' he said.
An ambulance spokesman said the man was transported to Auckland Hospital's emergency department in a "moderate condition''.
Auckland District Health Board spokesman Matthew Rogers said the man was assessed and sent home with "relatively minor'' injuries.
- APNZ