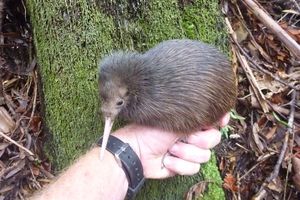 Meet Scarlet, a three-month-old kiwi chick that is part of a 400 per cent increase in the kiwi population at Whangarei Heads.
Bird numbers have surged over the last 10 years that Landcare Forum has been working with them.
Forum chairman Phillip King attributes stoat trapping and good dog control to the increase, from just 80 birds in 2002 to at least 400 now.
"Thanks to our possum control we are getting to the stage where we can boast that there are more kiwi than possums at the heads," he said at the recent 10-year forum anniversary.
Helen Moodie, secretary of the forum, said kiwi can breed for over 50 years in their lifetime, and in Northland a kiwi couple can produce four to five chicks a year.
"So what's really made the difference has been our two-pronged approach: laying a network of traps primarily for stoats and addressing the problem of uncontrolled dogs and making people aware of the damage they can do," she said.
"Kiwi smell really different to dogs - they can't help themselves. And kiwi have no chest muscles so their lungs and heart are exposed. A dog just picking a bird up in its mouth can kill it ... any dog can be a risk to kiwi."
But that's not all the forum has achieved over the last 10 years.
The forum Kiwi Project is one of the eight groups that makes up the forum, which acts as a platform for groups and individuals working on land care projects in the area.
"I guess the thing the WHLF is most proud of is the platform we have provided for local landowners to work on the issues that they care about, whether it be possum control, growing native plants or kiwi recovery ... and that we are still doing it 10 years later," Ms Moodie said.
Mr King said it was amazing to see the range of projects that have been carried out over the past decade, which includes the planting of nearly 100,000 natives from local and community nurseries, and significant weed control efforts.
"The Heads no longer has the dubious honour of being the 'weed capital of New Zealand'," he said.
- The Whangarei Report