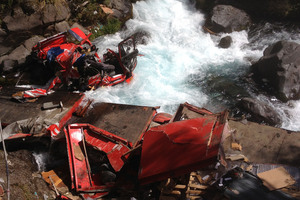 Kayakers faced dangerous rapids and near-freezing water to clean the Waihohonu Stream of debris spilled from a fatal truck crash earlier this month.
Porirua truck driver Dave Budge, 51, was killed when his freight truck carrying 20 tonnes of cargo crashed through a bridge and into the stream on Desert Rd two weeks ago.
Kayakers as well as rafters and scuba divers spent days scouring the stream in temperatures as low as 4C to collect the strewn cargo, which included two barrels of motor oil, paint rollers, bottled water, retractable clothes lines and marker pens.
Taupo rafting operator Simon McLeod, the owner of Liquid Days River Company, said the first 500m of the river was wide enough for helicopters to collect bagged rubbish left on the banks.
The following 2.5km more challenging.
"We had to raft down. I put plywood platforms onto two rafts and we had two kayakers in front and we had radios.
They would spot where the stuff was and warn us to pull over,'' Mr McLeod said.
Most of the river was a rafting grade three, except for a 200m section that was so dangerous that even regular Huka Falls kayakers were not keen to tackle it.
At the end of the stream the rafts and rubbish had to be winched up the 12m face of the Rangipo intake weir - and then the rafters would be returned to the Desert Rd bridge and start again.
Crews spent five days collecting rubbish and loading it into bags.
Mr McLeod said the river was about 95 per cent restored.
"It's one of the most beautiful rivers I've ever seen and the crew were stoked to be able to help restore the river to its natural state,'' he said.
Waikato Regional Council emergency response manager Rob Dragten said water samples taken from the river after the crash were reassuring.
The two items of cargo of most concern had been 12 containers of insecticide and three drums of pool cleaner.
While the insecticide containers were found intact on the river banks, the pool cleaner had emptied into the river.
Water sample analysis showed no change in acidity.
Mr Dragten said in samples close to the crash there was "a slight indication of diesel contamination'' from the truck. Further downstream there was no sign of contamination, he said.
- APNZ