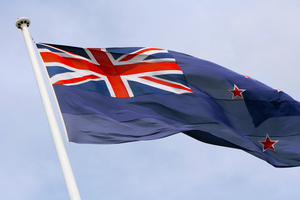 A British woman has been found guilty of racially abusing her Kiwi neighbour after calling her a "stupid fat Australian", a UK newspaper reports.
Chelsea O'Reilly, who has a dual British/New Zealand citizenship, says she was "really insulted" by the drunken rant of her Czech-born neighbour Petra Mills, the Daily Mail says.
Ms O'Reilly was giving a statement to police concerning Mills and her husband when Mills stormed over and began screaming at her on their street in Macclesfield, Cheshire, 300km north of London, on September 4.
"She called me a stupid fat Australian b****. Because of my accent there can be some confusion over my nationality. She knew I was [from] New Zealand," Ms O'Reilly said.
"She was trying to be offensive. I was really insulted. She said she would kill my dog. Bizarrely she then blew raspberries at me like a child."
Mills was fined £110 for racially aggravated public disorder and £200 for assaulting a police officer, who she kicked during her arrest, the Daily Mail says.
She had denied the racial attack but was found guilty after a trial at Macclesfield Magistrates Court.
Mills told the court her outburst had been caused by the stress of moving house but denied it was racially motivated.
"Yes I shouted at her but it had nothing to do with racism," Mills said.
"I did not use the word Australian. I used to live with an Australian person. She was very nice."
The Daily Mail said Mills' defence lawyer said his client was angry at Ms O'Reilly's "snooping" and not her nationality.
The statement Ms O'Reilly had been giving to police at the time concerned a domestic incident between Mills and her husband.
Mills' rant had been witnessed by police, who told the court they heard Mills say "Australian".
Chairman of the bench Brian Donohue said Mills was in "an emotional and inebriated state", the newspaper reports.
"The word Australian was used. It was racially aggravated and the main reason it was used was in hostility."
Mills, who has moved with her husband to Scotland, was also ordered to pay her victims £50 compensation and £500 court costs.
Australian journalist Paul Bleakley says he was "chilled ... to the bone" by the result of the court case, which "should pose serious questions for every Australian living" in the United Kingdom.
In an open letter written for the AustralianTimes.co.uk, Mr Bleakley said Mills' conviction "implies that [the] term 'Australian' has negative connotations".
"I do not know how things stand in Macclesfield, but every Australian living in the United Kingdom would wear the title as a badge of honour (even if it was yelled at them by a drunken nemesis)," Mr Bleakley said.
"At the least, it is merely a descriptive term. At the best, it is the greatest compliment Ms Mills could have given to her Kiwi neighbour, even though that was not her intention."
*Update - March 11, 2013: The conviction was overturned.
- APNZ