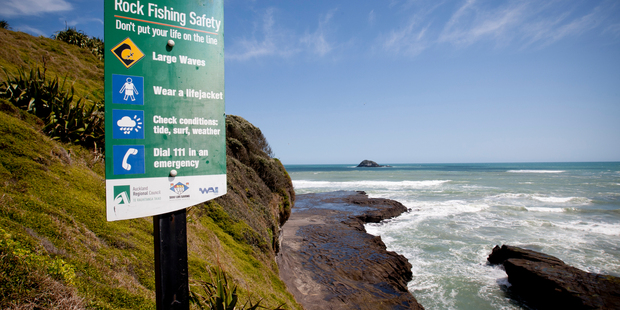 Auckland Council has boosted safety action to prevent further people from slipping on rocks at Muriwai after two recent incidents - one of them fatal.
Last week a 19-year-old man died after falling while preparing to go fishing.
In an earlier incident in September, 21-year-old supermarket worker Aaron Mitchell chipped his spine and broke his pelvis in three places from slipping on algae-covered rocks in the same spot on the Auckland West Coast beach.
Mr Mitchell credited the help of another man, who kept his body out of the water until emergency services, with saving his life.
Since last week's death Auckland Council has relocated warning signs and would be adding additional signs, said spokeswoman Angela Jones.
Staff were also getting advice about what could be done to manage and reduce the risks presented by slippery rocks at Muriwai, she said.
"We are deeply saddened by the death at Muriwai on Tuesday and for his family, she said about the 19-year-old's death.
Floatation devices, known as Angel Rings, are installed at risk locations along the west coast. An additional device was installed at Muriwai yesterday.
People needed to careful around all the water and rocks as slippery growth is not restricted to Muriwai, said Ms Jones.
Particular care is needed along the West Coast as there are 'large waves, strong currents and it can be an unforgiving place", she said.
Aaron Mitchell, was walking with his girlfriend along the rocks at Muriwai about 3.30pm on September 30 when he slipped and fell 5 metres, stopping in a blowhole.
He was lying in "absolute agony" as the waves bashed his broken body against the rocks and had given up hope when his rescuer appeared and kept his body out of the water until emergency services arrived.
"I just want to thank him from the bottom of my heart for what he did and just let him know that I'm extremely grateful," said Mr Mitchell last week.
He was airlifted to hospital by Westpac Rescue Helicopter.
The following day he underwent surgery to his broken pelvis, and remains recovering in North Shore Hospital.
- APNZ