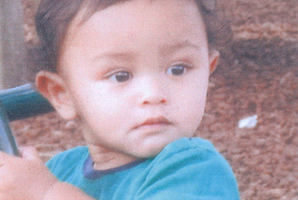 Little JJ didn't want to stay behind with his stepfather, and tried to follow his mother out of the house on the morning that the Crown says the child died.
Josephine Lawrence told the High Court at Auckland that she had to leave the house to get an overdraft from her bank to tide her over between benefit payments, while her partner Joel Loffley lay in bed on November 14 last year.
Ms Lawrence said her two-year-old son wanted to come with her but Loffley wanted the boy to stay behind.
"I was scared he was going to give me a hiding when I came back because if I didn't listen or do anything he wanted to do - he would give me a hiding."
She said JJ followed her down the hallway but she told him to go back to his stepfather.
The Crown says soon after Ms Lawrence left, Loffley slammed JJ in the stomach so hard that his pancreas and liver split in half. The toddler died soon after.
Loffley has denied a charge of murder, and told police that JJ fell off the bed.
Giving evidence from behind a screen, Ms Lawrence said shortly before she left the house, she saw Loffley pick JJ up and dump him on the bed as they played "wrestling".
"I said what are you doing? ... JJ was like, he liked it ... He was kind of a bit winded."
She said JJ was fine when she left.
Ms Lawrence said she came home a short time later to find JJ being showered by Loffley. She said she was beginning to get the flu and got into bed while Loffley put the child down for a nap.
She said Loffley told her JJ had fallen off the bed while he was making it.
Loffley brought her a laptop to watch a film on and left the house.
He returned a little over an hour later and brought JJ into their bedroom.
"He brought JJ into the room and said: 'I can't wake him up'. I said: 'What the f did you do?'."
Ms Lawrence said she was screaming and yelling and went into shock when she couldn't wake the child.
Despite the efforts of a passing electrician and ambulance staff, JJ could not be revived.
Earlier, Ms Lawrence gave evidence about how her son had broken both of his arms. On one occasion she had found him with a broken arm but was too scared to call an ambulance because she had been drinking and didn't want to be seen as a bad mum.
She told the court that she slept with JJ that night and the next morning took him down to the playground at Okahu Bay before calling an ambulance and pretending that he had fallen off the play equipment.
Ms Lawrence also gave details of Loffley using an asthma inhaler as a marijuana pipe and gave it to her son to smoke.
"He would give him a pipe and give him a spot."
As Ms Lawrence gave the evidence, some of her family members in the public gallery grew emotionally distressed and had to be helped from the courtroom.
She said she never saw Loffley do it, but he told her about it.
Ms Lawrence said she saw her two-year-old showing the signs of cannabis use, such as red eyes and sleepiness.
The trial continues.