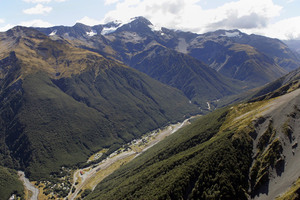 A young couple with a baby have been trapped by a swollen river while tramping in the Canterbury high country.
The couple were camping near Flock Hill station, south-west of Arthur's Pass, when the swollen Broken River cut them off today.
A police spokesman said the rise in the river level was due to rain in the hills.
The family had been staying in a Department of Conservation hut, "so they were safe and dry and they had food".
Police were currently on their way to check on them.
"The river will probably be down enough tomorrow for them to drive out."
The family was found by two friends who were taking part in a promotion which could win them a ute which had been hidden somewhere in the South Island.
"When we came across them the man was trying to wade the river. It was a pretty dangerous situation. We convinced him to go back and that we'd get help. They were running out of baby formula so were pretty desperate for help," rescuer Tracey Skinner said.
- APNZ